​Ruble recovers, as big exporters ordered to behave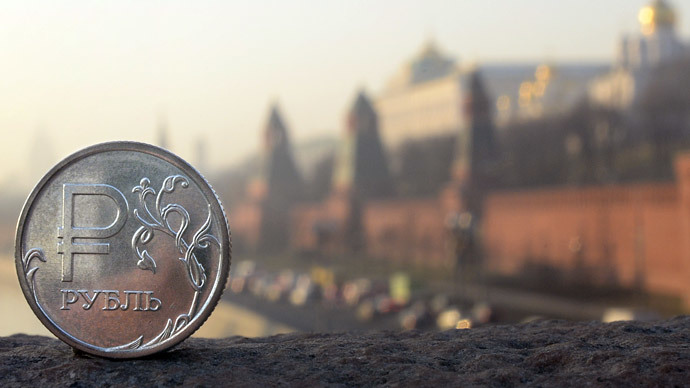 The ruble has seen a full week of recovery after its drastic 20 percent drop on December 16 dubbed as 'Black Tuesaday.' This was triggered by the call from the Russian government for businessmen to sell currency earnings.
READ MORE: Ruble's 'perfect storm' over – finance minister
The Russian ruble closed Friday session at 54 against the US dollar, which compares to the average of 56 on Monday.
"We are now seeing how the ruble is strengthening. It is now approaching, in my view has already approached, the area of a balanced rate, which is also called a fundamental one," Russia's Economy Minister Aleksey Ulyukaev said Friday in an interview with Rossiya 24 TV.
A drastic drop in the ruble's exchange rate has triggered some of Russia's biggest exporters in agriculture and energy to either accumulate foreign currency earnings or increase sales overseas.
READ MORE: Ruble at 2-wk high as Central Bank pulls out big financial tools
In agriculture, increased exports of grain have caused a shortage within Russia which also pushed prices up.
To balance the market, the Russian government ordered the introduction Thursday of a 15 percent plus €7.5 export duty on wheat from February 1, 2015. The duty was calculated so the price is no less than €35 per ton.
As for oil companies, they started hoarding foreign currency earnings from selling crude which also poses risks to the domestic economy, as the supply was low compared to the increased demand.
READ MORE: Ruble plummets losing more than 20% in a day, hitting new dollar and euro lows
After the CBR and a number of businesses raised concerns over the currency risks, President Putin ordered the Government Issue guidelines for all exporting companies to sell their currency earnings.
On December 23 the government urged the five largest state-owned exporting companies including Rosneft and Gazprom to bring the amount of their net foreign currency assets to an amount not exceeding the level of October 1, 2014.
Russian Finance Minister Anton Siluanov said Thursday the weakening period of the ruble has stopped and the national currency is seeing a strengthening trend.
You can share this story on social media: