​CBR head: Russian inflation to cool, rate increase 'not inevitable'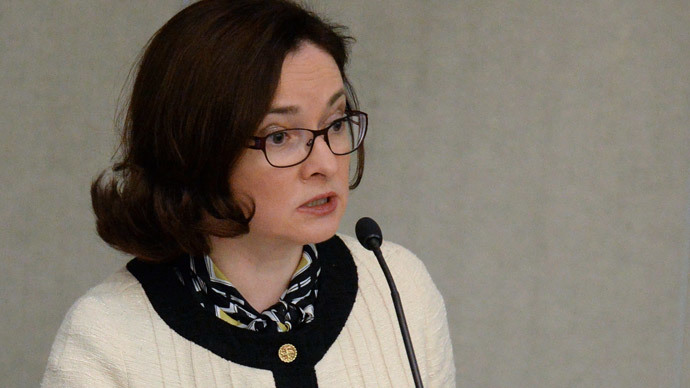 Russia's Central Bank is unlikely do a u-turn on cutting key interest rate as inflation is expected to subside to 4 percent mid-term, said the bank's head Elvira Nabiullina.
The bank will decide on future rate changes based on an analysis of the economy, and the forecast on the dynamics of inflation and risks to growth and financial stability, Nabiullina said in an interview with Bloomberg Monday, adding that all the moves will be aimed at targeting inflation.
"We have very moderate dynamics in the money supply data, that's why we're really expecting inflation to slow down in the 2nd, 3rd quarters, in the 2nd half of the year and into 2016," she said. "That's why there's no reason to talk about the inevitability of a rate increase."
At the same time Nabiullina admits that low oil prices and sanctions will lead to an economic contraction and expects it to be at around 3 to 4 percent in 2015. In an attempt to revive economic growth, the Central Bank unexpectedly cut its key rate to 15 percent from 17 percent at the end of January. This caused fears it could further trigger inflation that now stands at 15 percent.
READ MORE: Russia's Central Bank unexpectedly slashes rate to 15%, ruble reels
It's expected that economic contraction will affect the banking system, as banks will offer fewer loans and lending rates will be higher.
"However, there's no systemic problem – stress tests show banks will get through in a stable condition," said Nabiullina.
The head of the Central Bank agrees that structural reforms are needed to bring the economy back to normal, as "neither monetary nor budget policy can create stable economic growth."
Talking about possible measures the Central Bank could take to curb the economic downturn, she said it would never use such tools as pumping money into the economy, fixing the exchange rate, or imposing administrative restrictions on capital flows, as it is fundamentally unproductive.
Recalling December 16, which has become known as Russia's 'Black Tuesday', when the ruble reached unprecedented historic lows, Nabiullina said it was a crucial date, as on that day the CBR stepped away from the currency market letting the ruble float freely.
READ MORE: Ruble plummets losing more than 20% in a day, hitting new dollar and euro lows
The only case in which the CBR could intervene in the Russian currency market is if there is a direct threat to financial stability, she said.
Meanwhile Russia has increased its gold holdings to 39 million ounces which makes up nearly 12 percent of the country's reserves. The move was made to diversify foreign currency and gold reserves and solve the problem of ruble liquidity, she said.
READ MORE: Russia increases gold purchases by 123%
The Central Bank of Russia bought a record amount of gold in 2014, spending $6.1 billion in an attempt to reduce dependence on the dollar.
You can share this story on social media: