US signs $2bn loan guarantee deal with Ukraine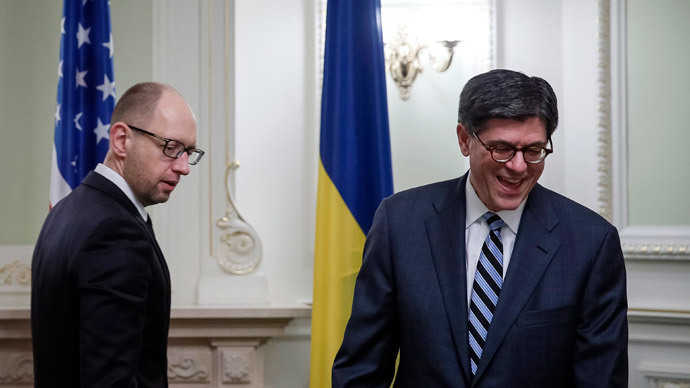 The US has put a final signature the $2 billion loan guarantee deal for Ukraine, adding that it is prepared to step up sanctions against Russia if necessary.
"The United States and Ukraine signed a declaration of cooperation in providing loan guarantees. The US government provides $2 billion in loan guarantees to Ukraine," Ukrainian Finance Minister Natalia Yaresko said Wednesday after meeting US Treasury Secretary Jack Lew in Kiev.
This means the US will take over responsibility for Kiev's debt.
The US Treasury agreed to provide loan guarantees to Ukraine two weeks ago when US Vice President Joe Biden and Ukrainian Prime Minister Arseny Yatsenyuk discussed the terms in a phone conversation.
Ukraine will get $1 billion during the first half of 2015, provided that Kiev continues to implement reforms, said Lew.
He said that additional funds can further be allocated if Ukraine complies with the conditions.
"We also propose that we ask our Congress to allocate an additional $1 billion, and the total amount of guarantees will be $3 billion, if Ukraine will remain committed to implementing reforms," he said, adding that the first billion of loan guarantees will help Ukraine with its "near-term social spending."
"The loan guarantees are provided so Ukraine could handle its social spending and protect those who will suffer from the negative impact that the reforms might have," he said.
Lew also commented on the situation in the South east Ukraine, saying that the United States was opposing the so-called 'Russian aggression' and that the sanctions may be expanded.
"We remain prepared to do more (on sanctions) if necessary," he said. "The diplomatic way is our first choice for conflict resolution, but we may do further steps and put more pressure on Russia."
On Thursday, the EU is meeting to decide on more Russia sanctions. The ministers will ask the EU's executive commission and diplomatic service to expand the list of names that could be put under sanctions, and decide on whether to cut Russia out of the SWIFT international payment system.
Russian Prime Minister Dmitry Medvedev said Tuesday the response to a possible cut-off from SWIFT will be "unrestricted."
READ MORE: Russian PM vows 'unrestricted' response if banned from SWIFT payment system
Earlier the EU Council and Finance Ministry of Ukraine agreed €1.8 billion in macro-financial assistance to Ukraine.
The country is currently going through a full-fledged financial crisis, is balancing on the edge of default. According to a report by the National Bank of Ukraine (NBU), inflation in the country accelerated to 21.8 percent in 2014.
READ MORE: Ukraine in 'full-blown financial crisis' – National Bank head
In early January Finance Minister Yaresko acknowledged that Ukraine is in a desperate financial situation and said the government intends to seek the assistance of Western partners.
You can share this story on social media: