Russian GDP hit as manufacturing slumps
Published time: 29 Dec, 2014 16:43
Edited time: 3 Mar, 2015 08:39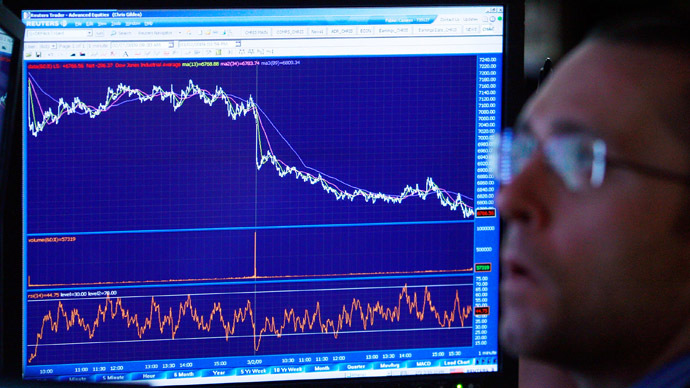 Disappointing Russian economic data has been released on Monday, as the country's manufacturing activity declined in December for the first time in six months. November GDP shrank by 0.5 percent, the first time since 2009.
The pool of negative data dragged the Russian ruble down during Monday trading at the Moscow Exchange. The currency finished the day at 56.9 against the US dollar compared to 54 against the greenback at Friday's close.
#Russia econ appears to be deteriorating rapidly now, w/ GDP reported -0.5% YOY & Manufacturing PMI <50 (viaPierpont) pic.twitter.com/xA9Ud5d9Af

— Holger Zschaepitz (@Schuldensuehner) December 29, 2014
Russia's GDP is 0.5% down in November for the first time in five years, according to the monthly report from the Ministry of Economic Development and Trade released Monday. The country's overall GDP from January through November has grown by 0.6 percent, reports the ministry.
The negative impact on the dynamics of GDP in November came from manufacturing, construction, and services, as well as net taxes on products and imports, the ministry said.
At the same time a positive contribution to economic growth came from the extractive industries, power, gas and water generation, as well as retail business.
The performance of Russian factories has been measured by the HSBC Purchasing Managers' Index (PMI), which considered business conditions of Russia's 300 manufacturing companies. Russia's PMI fell to 48.9 in December from 51.7 in November, which points to an industry contraction.
The PMI survey is a composite indicator giving an overall single figure snapshot of operating conditions in country's manufacturing economy. It takes into account a number of indicators, including general output, new orders, employment etc.
Readings above 50.0 indicate an overall improvement in business conditions, below 50.0 an overall deterioration.
The consumer goods sector, that used to be a key manufacturing driver, suffered the most, according to Aleksandr Morozov, Chief Economist (Russia and CIS) at HSBC.
"In essence, the consumer goods producers stopped benefiting from retail sales growth. This suggests that the import substitution in this sector further to the ruble depreciation may be problematic and will take time, at best," Morozov concluded.