Russia will go to international court if Ukraine doesn't settle gas debt – Medvedev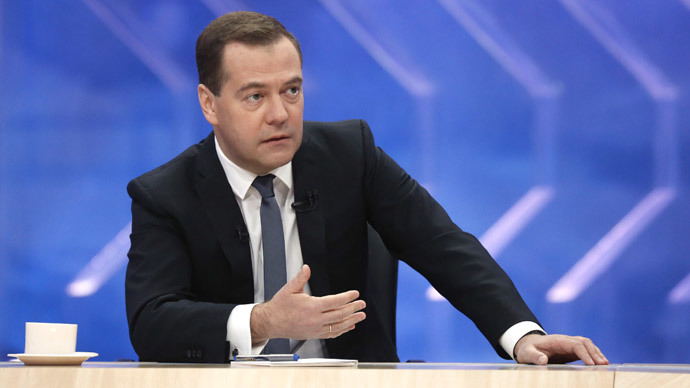 Russia's Prime Minister Dmitry Medvedev says Moscow will take Ukraine to court if it fails to pay gas debt. Even though the country is teetering on the brink of default he left the door open for possible negotiations.
An EU-mediated agreement in October says Ukraine owes Russia $3.1 billion for gas it has already bought, and it has to pay up by the end of the year.
"I think that we can reach an agreement, and there is always room for compromise," the Russian Prime Minister said during an interview with domestic TV channels in Moscow.
"But if we can't, there are already several lawsuits at the International Court of Arbitration in Stockholm, we'll see them there."
Despite concluding what it calls an 'interim' deal, Kiev has also threatened to take Moscow to the Stockholm tribunal over the payments.
On Tuesday, Russia began to deliver gas to Ukraine for the first time in six months, following a payment of $378 million. The delivery of 1 billion cubic meters is part of a $1.5 billion deal, also signed in October, which allows Ukraine to buy enough fuel to last through winter at slightly below-market prices.
"We've agreed a discount of $100 dollars, because we do not want the Ukrainian economy to choke," said Medvedev.
READ MORE: Russia resumes gas deliveries to Ukraine after six-month hiatus
Despite the ongoing fallout between the two countries over the status of Crimea, and the uprising in eastern Ukraine, Medvedev told Kiev that Moscow "gifted more than $80 billion dollars in subsidized gas between the early 90s and 2000s."
Russia also bought a $3 billion bond, issued by the now deposed government of Viktor Yanukovich, as part of a wider rescue package, which Medvedev said Kiev is honoring, with interest payments.
"So far Ukraine is paying, and I hope they continue doing so," said Medvedev.
"If they stop, they will suffer a potential default, which will have devastating consequences for the Ukrainian economy, which is already in a lamentable state."
The Financial Times reported that Ukraine, which was allocated a $17 billion rescue package by the IMF in April, will now require a further $15 billion to stave off default, according to Fund officials.
The extra shortfall has been prompted by the severe contraction of GDP following the breakout of armed hostilities, and the collapse of trade with Russia, which has embargoed entire groups of Ukrainian goods. The secessionist eastern regions make up about 16 percent of the country's GDP.
The country's gold reserves have nearly halved since May, and its foreign currency stockpile has dropped from $16.3bn in May to a paltry $9bn.
Further aid may be hard to obtain from confidence-stricken European nations.
"It's not going to be easy. There's not that much money out there," a senior official negotiating with the Ukrainian government told the Financial Times.
You can share this story on social media: