​Japanese currency hits 7yr low on Moody's downgrade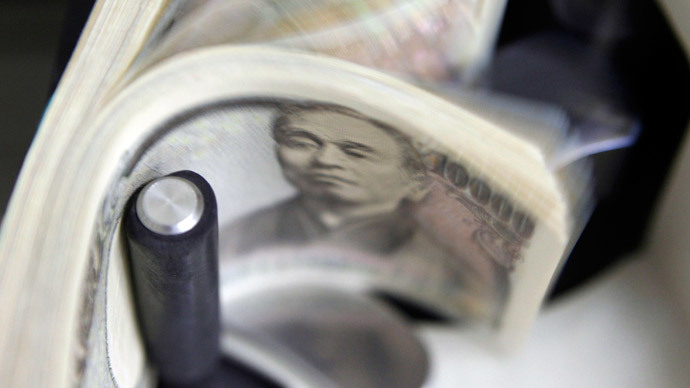 The Moody's rating agency has cut Japan's long-term credit rating over doubts the country will cope with its sky-high $11 billion public debt, the world's largest.
"Fiscal consolidation will become increasingly difficult to achieve as time passes given rising government spending, particularly for social programs associated with a rapidly ageing population," Moody's said in a release.
The decision to cut the rating from Aa3 to A1 was made shortly after Japan's Prime Minister Shinzo Abe's decided to dissolve parliament to save his grand economic plan known as "Abenomics" aimed at getting the country out of recession.
READ MORE: Japan's PM dissolves Parliament, puts off tax rise to save 'Abenomics'
Moody's stressed that the downgrade doesn't affect Japan's ratings in terms of foreign and local currency obligations, as well as bank deposits, which remain at the level of Aaa.
After the rating cut was announced, the exchange rate of yen against the dollar fell immediately to its lowest level in seven and a half years to 119.14 yen per dollar.
Japan's public debt is the largest among the G7 countries and is estimated at more than $11 trillion. It is more than double the country's GDP.
READ MORE: World's heaviest burden: Japan's debt tops 1 quadrillion yen
The Japanese Ministry of Finance reported that the debt could reach $12 trillion by the end of the 2014-2015 fiscal year.
During the first quarter of the current financial year, the country's public debt increased by more than $140 billion.
In May 2014 the Fitch rating agency downgraded Japan's sovereign credit rating on foreign currency debt by two notches from AA to A +, and by one notch in national currency, from AA- to A +.
Moody's and Fitch's estimates match regarding the future economic situation of Japan. Standard & Poor's has not yet changed its rating of Japan which remains at AA-.
You can share this story on social media: