Putin: Energy is 'locomotive' of Russia - Turkey economic cooperation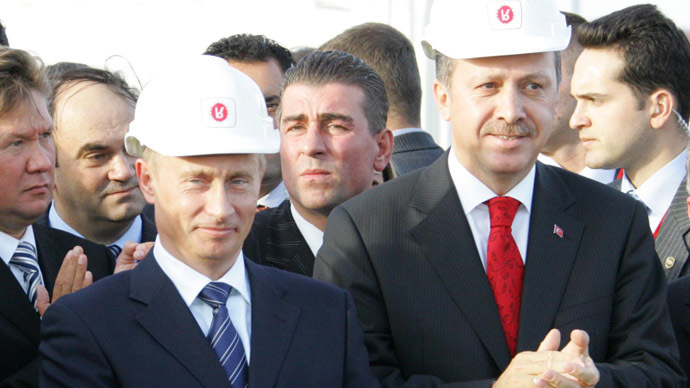 The Russian President is to visit Turkey on December 1 to discuss trade and energy. His talks with Turkish President Erdogan will focus on the Blue Stream gas pipeline from Russia, as well as the building of a $20 billion nuclear power plant.
President Putin and Turkey's President Recep Tayyip Erdogan are due to meet in Ankara on Monday.
"In recent decades, energy has been playing the role of a 'locomotive' in our trade and economic cooperation. In terms of volume, Turkey is the second largest buyer of Russian natural gas after Germany, which is delivered through the 'Western corridor' with transit through Ukraine, Moldova, Romania and Bulgaria, and through the Blue Stream gas pipeline," Putin said in an interview to Anadolu Agency ahead of his visit to Turkey.
With a population of more than 80 million Turkey is a strategic partner for Russia as it diversifies dependence away from Europe.
In 2014, Russia will supply Turkey with 30 billion cubic meters of gas, compared to 26.7 billion cubic meters in 2013, according to Gazprom Export. The increase is to meet Turkey's growing energy demand, especially in the winter months. According to Turkey's energy minister, this will increase the share of Russian gas in the Turkish market to 46 percent from 43 percent.
Turkey will try and negotiate a discount for the extra 3 billion cubic meters of cubic meters of Russian gas it agreed to in October, Turkey's Energy Minister Taner Yıldız said after holding meetings with Gazprom CEO Aleksey Miller in Moscow. Yıldız requested a discount on the extra deliveries, and said he is waiting for the Russia company's proposal.
Russia opened the Blue Stream gas pipeline in 2002, and its capacity is set to increase from the current 16 billion cubic meters (bcm) of gas per year to 19 bcm, Putin said.
Gazprom's Blue Stream Pipeline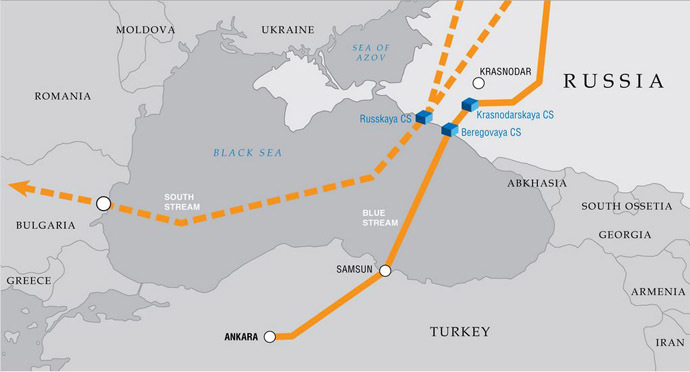 Nuclear energy is also an area of energy cooperation between the two countries. Turkey relies on Russia for almost 65 percent of its energy imports.
In 2010, the two countries signed an agreement to construct the Mersin-Akkuyu nuclear power station in Turkey.
"This large-scale project, worth about $20 billion, is being implemented on schedule and will strengthen Turkey's energy security and create new jobs, including through the involvement of Turkish companies," Putin said.
The plant is going to be built by the Russia's state-owned Rosatom.
Trade between the two countries is $32.7 billion, making Turkey an important foreign partner for Russia. The accumulated Russian direct investment in Turkey reached $1.7 billion in 2013, and Turkey invested close to $1 billion in Russia.
You can share this story on social media: