​OPEC may decide to give Iraq, Iran, and Libya immunity from oil supply cut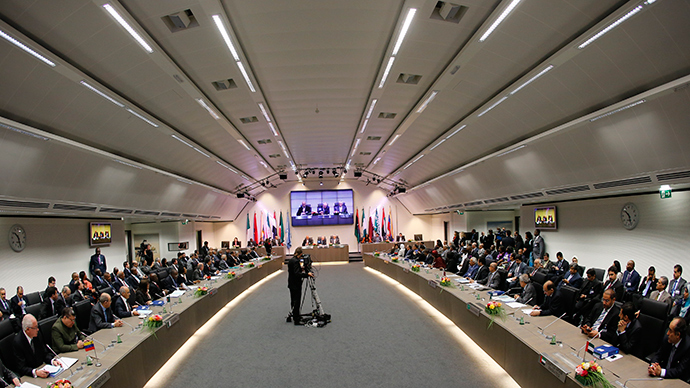 Should OPEC decide to cut production this week in an effort to boost oil prices, media reports suggest that Iraq, Iran, and Libya could be given an exemption from making supply reductions.
The three counties may not have to cut production since they are not operating at full capacity, and are not likely to do so, Bloomberg News reported, citing two sources close to the proposal.
"It makes sense that these three countries shouldn't have to make further cuts," Abhishek Deshpande, oil markets analyst at London-based Natixis, told Bloomberg News on Monday.
The 12 members of the Organization of Petroleum Exporting Countries meet Thursday in Vienna to decide whether to cut production or not.
Swiss bank UBS believes they will make a cut to boost oil prices, which have fallen more than 30 percent from a $115 peak in mid-June.
"We do think they are going to cut, by somewhere between 0.5-1 million barrels per day. And we think that provides a lot of upside on the oil price given the market position right now," Wayne Gordon, a commodity analyst at UBS Wealth Management told Bloomberg News.
The current $80 a barrel price has been driven by ramped production from American shale, as well as a general decrease in global demand, spurred by economic lethargy in Europe and China.
The Organization of the Petroleum Exporting Countries or OPEC includes Iran, Iraq, Kuwait, Saudi Arabia, the UAE, Qatar, Venezuela, Algeria, Angola, Libya, Nigeria, and Ecuador. Together they produce more than 40 percent of the world's oil.
Low oil prices have put many OPEC members under budget pressure, as the oil exporting countries use oil prices as a foundation for setting state budgets. Iran needs a price at $140 per barrel to balance its budget, whereas Saudi Arabia needs a price of $90.70 per barrel, Qatar $77.60 per barrel, and the United Arab Emirates $73.30 per barrel.
Venezuela, which has been pushing for a decrease in production, as it needs oil to settle above $120 to balance its budget.
"On a revenue basis, it's their best proposition to cut production, here at UBS we think they will cut production, that's our view," Gordon told Bloomberg.
Moscow's wish
Russia is not an OPEC member nor does it have an official presence at Thursday's talks, but Rosneft CEO Igor Sechin and Russia's Energy Minister Aleksandr Novak are holding meetings with OPEC officials on Tuesday.
Russia, after Saudi Arabia, is the single biggest producer of oil, accounting for 14 percent of world supply.
Last week Energy Minister Aleksandr Novak said the Russian government is considering decreasing oil production in order to buoy world prices, but a final decision hasn't been made. Russia may suggest cutting its oil production by around 300,000 barrels per day as long as OPEC reduces its production by 1.4 million barrels per day, Kommersant reported, citing a source close to the government.