​Germany considering phasing out coal power generation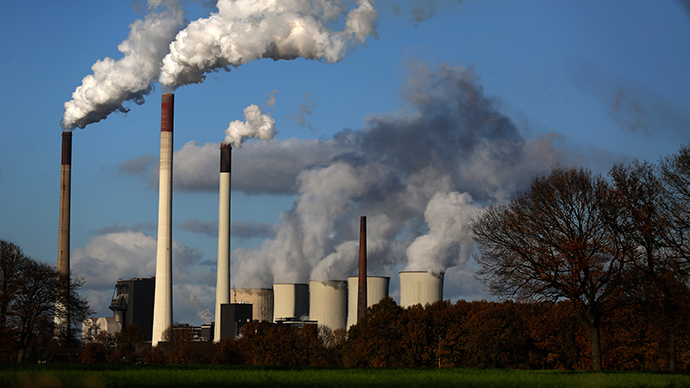 The government in Berlin is debating ditching the use of coal, which generates almost half of Germany's electricity, in an effort to keep cuts in carbon emissions on target.
After deciding to cut out nuclear power, Europe's biggest economy aims to limit coal use in energy production as well.
Angela Merkel's government is split over the issue with only weeks until her cabinet is due to present its next climate action plan on December 3.
Environment Minister Barbara Hendricks said that if Germany doesn't reduce its use of coal, it has no chance of achieving its 2020 goal of cutting global warming carbon emissions by 40 percent to the 1990 level.
Vice Chancellor Sigmar Gabriel, the leader of the centre-left Social Democrats (SPD) who co-govern with Merkel's conservatives, thinks differently, saying there's no way around using coal, because of the costs, the thousands of jobs involved, and energy security.
"We can't simultaneously get out of nuclear and coal," she said.
Another factor has been the collapse of the European emissions market, a system meant to factor in the environmental cost of burning fossil fuels. As the penalty for carbon emissions has dropped in price, coal plants have become more lucrative.
READ MORE: Australia becomes first developed country to abolish carbon tax
After Japan's 2011 Fukushima nuclear disaster Chancellor Merkel decided to shut down all German atomic reactors by 2022. By mid-century Germany aims to meet 80 percent of its power needs with renewables such as wind, solar energy and biogas, which now generate around a quarter of the country's needs.
Environmental pressure groups, led by the opposition Greens party, have campaigned to shut Germany's coal plants. The party, once deprived of its signature anti-nuclear crusade, is backed by some research institutes.
One of them, the German Institute for Economic Research, last Wednesday presented several scenarios for an exit from coal closing between 21 and 46 power plants, depending on the type. The researchers believe that will allow Germany to meet its climate goals.
"We have excess capacity, it would be the right time," argued lead researcher Claudia Kemfert.
"The power sector should make a greater contribution toward reaching the short- and medium-term climate target by replacing CO2-intensive, inefficient coal plants with more efficient gas plants."
The German coal industry supplies plants providing 46 percent of the country's electricity and employs around 50,000 people. Given the fact that mining unions are a traditional voting block for the Social Democratic Party of Germany (SPD), the issue has sparked anxiety and a wider debate. However, critics of coal wave off the jobs argument.
"Overall, the effect on employment would be positive," said Ralf Fuecks, director of the Heinrich Boell Foundation which is close to the Greens party. "It's about substitution, not bringing down production."
You can share this story on social media: