Super-rich control $30tn of global wealth, or 40 percent of world GDP - study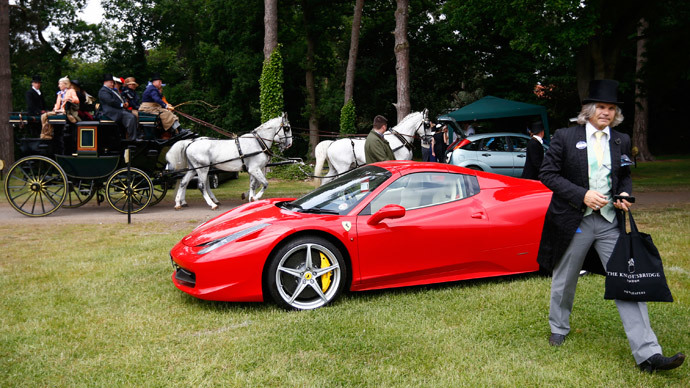 About 13 percent of global wealth of adults is concentrated in the hands of 0.004 percent of the population, according to a new study. And the trend is set to continue with the number of high net worth individuals reached a record 211,275 in 2014.
Swiss bank UBS and consulting firm Wealth-X compiled the World Ultra Wealth Report 2014 released Thursday.
"Ultra-high net worth" (UHNW) individuals are defined as people with a fortune of about $30 million. Of the 211,275 that fall into the category, 2,325 are billionaires, a 7.1 percent increase since last year. Experts believe the number of billionaires could rise to 4,000 by 2020.
"Even amidst geopolitical conflicts, socio-economic strife, and volatile currency markets, the world's equity markets displayed strong performances, thereby enabling UHNW individuals' wealth to increase and their influence across industries and sectors to grow -- from their importance in wealth management to their consumption of luxury goods," the report said.
READ MORE: Number of billionaires hits new record high in 2014-report
The UHNW adult population account for approximately 1 in every 35,000 people in the world, or just 0.004 percent.
"Such a large concentration of wealth in the hands of these few individuals means that they tend to have a large degree of influence, whether on global equity markets or specific industries," the report says
Average wealth of an UHNW individual has risen to $139.4 million, up $1.8 million last year, a more than 77 percent increase.
The geographical heavyweight was again North America, which accounts for nearly a third of the total $30 trillion, at $9.7 trillion in held wealth. Europe is home to about 25 percent and Asia 23 percent.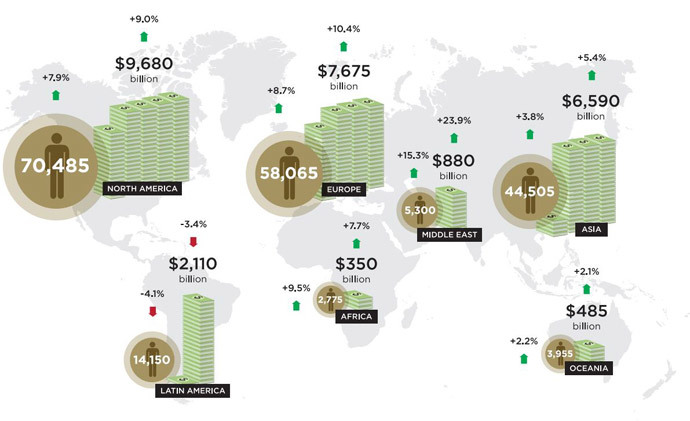 Another major trend the report forecasts is that Asian wealth will overtake Europe in 2017. Currently Asia is home to 44,505 super-wealthy individuals with a combined fortune of $6.6 trillion, and Europe's wealth stands at $7.7 trillion, shared between 58,065 people.
Latin America is the only region in 2014 to incur a fall, down 600 individuals and $75 billion.
Eighty-seven percent of the list is men, and more than two-thirds struck it rich on their own, 13 percent by inheritance, and the rest a combination.
Women, on the other hand, are more likely to become wealth via inheritance. Almost 50 percent got rich through inheritance, and one-third was "self-made."
The average UHNW individual spends $1 million a year on luxury goods and services, the report says.