​Frankfurt begins first European direct settlements in Chinese yuan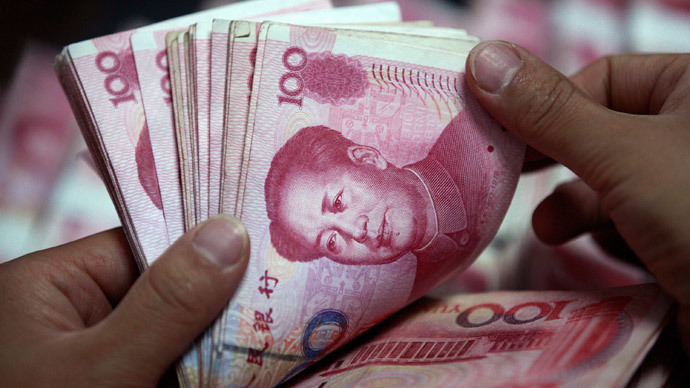 European companies now have the opportunity to settle trading accounts in Chinese yuan. The Bank of China in Frankfurt has become the first to operate European yuan clearing. Trading costs will be cut as there will be no dollar exchange first.
More than 10 German regional and international banks including Deutsche Bank, Commerzbank, DZ Bank AG, and Landesbank Hessen-Thueringen Girozentrale, have opened accounts at Bank of China in Frankfurt.
In June the People's Bank of China chose Bank of China Ltd. to clear payments in the eurozone. The last five months were spent building the settlement infrastructure before the official start of clearing Monday.
Yuan clearing in Frankfurt "will increase the share of German SMEs using the renminbi for their trade with China to well over the current 10 percent," Frank-Oliver Wolf, divisional head of cash management and international business at Commerzbank told Bloomberg.
Frankfurt is the first European financial center to conduct transactions in yuan. Germany and China agreed to establish a settlement center for the yuan in March. The agreement was concluded by the Bundesbank and the People's Bank of China during the state visit of Chinese leader Xi Jinping to Germany.
The yuan is "gaining traction as a trade currency and has in my opinion already reached the level of an investment currency," Joachim Nagel, a board member at the Bundesbank, said Monday in a speech in Frankfurt. "It is only a matter of time before the renminbi [yuan-Ed] becomes an international reserve currency," he added.
"It's clear from our observations in the course of 2014 that the yuan is no longer an emerging market currency," Sven Juergensen, head of forex sales for corporate clients at HSBC Holdings Plc in Germany, said in a Bloomberg interview on November 14. "Trades can be conducted at any point in time at adequate spreads."
China has reduced control over the yuan exchange rate and is gradually moving towards making it a global trading currency. Other financial centers, including Hong Kong, Taipei, Singapore, Seoul, Paris and London, have also signed similar agreements with China.
Another step in this direction has already been made in China. The Hong Kong and Shanghai Stock Exchanges a have created a mechanism for cross-trading - Shanghai-Hong Kong Stock Connect.
It allows investors access to the largest stock market on China's mainland and vice versa.
READ MORE: China opens up $4.2tn stock market to world via Hong Kong
In recent years China has been promoting its currency. It has concluded swap agreements with a growing number of countries. In some countries China helps companies to issue yuan denominated bonds. Establishing a yuan clearing service in Europe is an essential to create a new reserve currency.
You can share this story on social media: