China opens up $4.2tn stock market to world via Hong Kong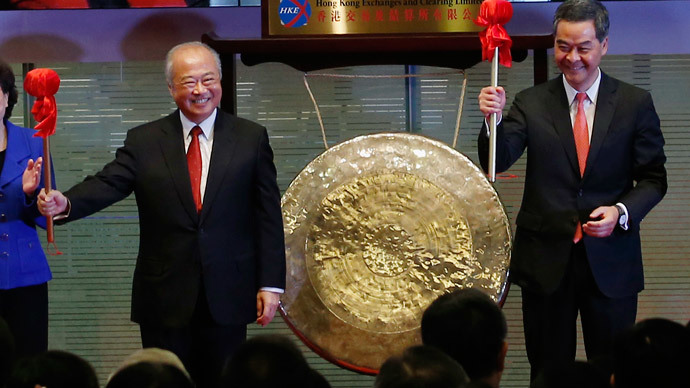 The Chinese mainland is now open for business, at least in terms of its $4.2 trillion capital market. The Shanghai and Hong Kong stock exchanges are now linked giving foreign investors access to the tightly-controlled Chinese capital markets.
Stock Connect debuted on November 17, and for the first time, stocks on both markets can be traded freely, a major step in China's roadmap to liberalize its economy.
The landmark agreement will give international investors a lot more options- 568 Shanghai-listed stocks and 268 Hong Kong-listed companies. Foreign investors will be exempt from paying taxes on capital gains (CGT). Previously, the trading of mainland Chinese stocks on the Hong Kong exchange was restricted to a few "qualified" investors.
The change was announced last April by Chinese Premier Li Keqiang as a way to increase both exchanges' standings in global finance.
"This should increase the scale and relevance of these markets and also improve market efficiency and the robustness of China's financial system in general," HSBC analyst Steven Sun, head of China equity strategy, said in a report leading up to the unveiling.
A limit of $2.1 billion (13 billion yuan) worth of stocks can be bought on the Shanghai exchange per day. On the opening day, the limit was reached by mid-afternoon.
The link may soon be expanded to the Shenzhen Stock Exchange, HSBC wrote.
"Chinese investors will take Hong Kong as a place to put their long-term bets. So that's why I think in the long-run Hong Kong will benefit from this," Alex Wong, an asset management director at Ample Finance Group in Hong Kong, told Reuters.
Opening its markets is one of the major economic reforms China has undertaken to allow its currency to free float within the next four years.
You can share this story on social media: