G20 aim to add $2tn to global economy by 2018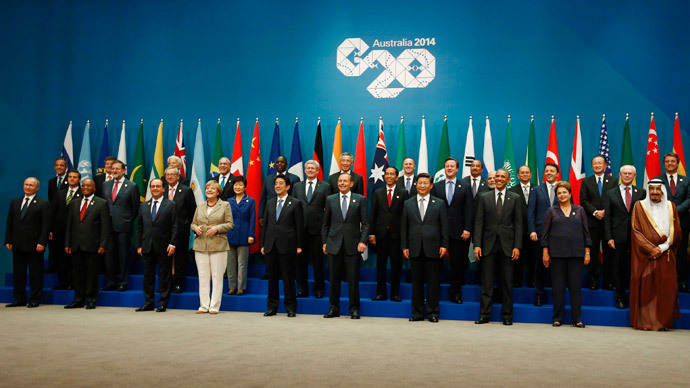 Leaders of the G20 left Brisbane with a plan: to collectively boost the global economy by $2 trillion by 2018, and to implement structural reforms to "re-balance" and strengthen it. This would be a 2 percent increase to the world's $74 trillion economy.
The "Brisbane Action Plan," outlined in the official communique, looks to ramp up investment, trade, employment, and establish more sound macroeconomic policies.
The G20 countries collectively controls 85 percent of the global economy and 75 percent of world trade.
READ MORE: World's Top 20 to discuss how to boost global GDP by 2%
A new "bail-in" strategy to protect tax payers in the case banks go bust was endorsed by participants, and leaders also found common ground on tackling tax evasion.
"Profits should be taxed where economic activities deriving the profits are performed and where value is created," the G20 communique said. The G20 will also lead the fight against corruption and push for more transparency both in the private and public sectors.
The leaders agreed to create a global infrastructure hub. to be based in Sydney, which will increase growth by connecting governments, companies, development banks, and potential investors around the world.
Other key issues include climate change and gender equality. Leaders promised to reduce the male to female ratio in the workforce by 25 percent in the next 10 years, which could bring 100 million women into the workforce. A main goal remains to support growth that will help reduce inequality and poverty.
The International Monetary Fund released its own summit response, where it warned of the still fragile state of the world economy. So far, the Washington-based institution has had to slash its 2014 world growth forecast to 3.2 percent from 3.8 percent.
Political tensions, record-low oil prices, and a financial market correction are factored into lower than projected growth. President Vladimir Putin, who didn't stay until the end of the summit, said sanctions against Russia are harmful to the world economy and to the country.
"Key developments since the October World Economic Outlook include a financial market correction, appreciably lower oil prices, and some further signs of weakness in activity," the IMF note said.
Even though some economies like the US are showing signs of recovery after the 2008-2009 financial crisis, others are at risk of contraction.
Over the weekend, world's third largest economy Japan, said it has re-entered recession, and the eurozone is on the brink of a triple-dip recession.
"Slow growth highlights the importance of G20 commitments to raise global growth," the IMF report said.
Turkey will host the G20 summit in 2015 and China in 2016.