​China leads 'historic step' to Asia-Pacific free trade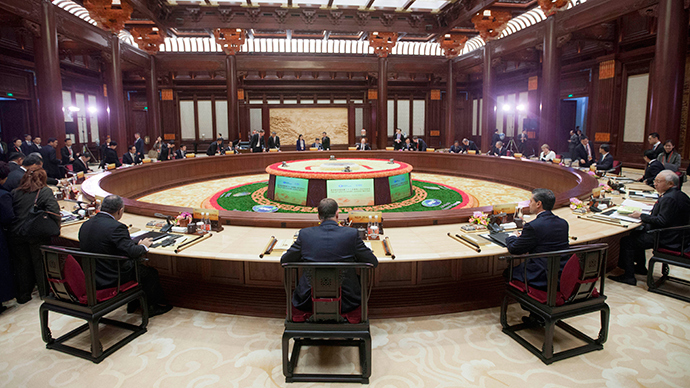 APEC members have adopted a roadmap for an Asia-Pacific free trade zone that will eliminate trade barriers across 21 countries and could challenge US dominance in the region.
The decision is "a historic step" towards implementing the idea of the Free Trade Area of the Asia-Pacific (FTAAP), Chinese President Xi Jinping said Tuesday at the APEC news conference.
The organization will conduct a two-year study into establishing the FTAAP.
It is the first time Beijing has taken the lead in promoting a multinational trade agreement, eight years after the idea was first proposed.
Throughout the forum, Xi Jinping emphasized the growing power of China, which is planning to spend tens of billions of dollars on building overseas infrastructure along key trade routes.
US President Barack Obama welcomed the initiative of a free trade deal a day after he hailed the separate US-led Trans-Pacific partnership (TPP) that doesn't include China or Russia. In an interview to XInhua news agency he denied speculation that the TPP is a way of containing Chinese influence.
READ MORE: President Obama pushes for secretive trans-Pacific trade deal in China
The pact includes 12 countries in the Asia-Pacific region, and has been negotiated mostly in secret. WikiLeaks published a draft version of the negotiating document. The details were criticized by some experts who said it would violate intellectual property protection, environmental regulations, and curb freedom of speech.
China's response to US 'signal'
"On TPP, China is the only country [among world's top 3 – Ed.] excluded," Liu Feitao, Deputy Director of the American Studies Department of the China Institute of International Studies in Beijing, told Bloomberg. "Chinese see the signal from that action."
At the summit China signed a number of trade deals that point to China's attempt to curb the US dominance in the region.
Agreements on settlements in local currencies marked another challenge to the US dollar in global finance.
READ MORE: Ruble-yuan settlements will cut energy sales in US dollars – Putin
On Monday the Chinese and Malaysian central banks signed a deal to establish a yuan clearing bank to be based in Kuala Lumpur. This is first bank of its kind for the country, the People's Bank of China said. The clearing bank for business deals in domestic currencies - Chinese Renminbi (RMB) and Malaysian Ringgit - will bolster Malaysia's position as a gateway for RMB flows in Southeast Asia.
The leaders of China and South Korea also reached an agreement on a free trade deal removing tariffs on 90 percent of goods. That would allow Korean firms broader access to China's market.
In October China launched the Asian Infrastructure Investment Bank a rival to the World Bank and ADB.
You can share this story on social media: