Serbia proposes free trade zone with Russia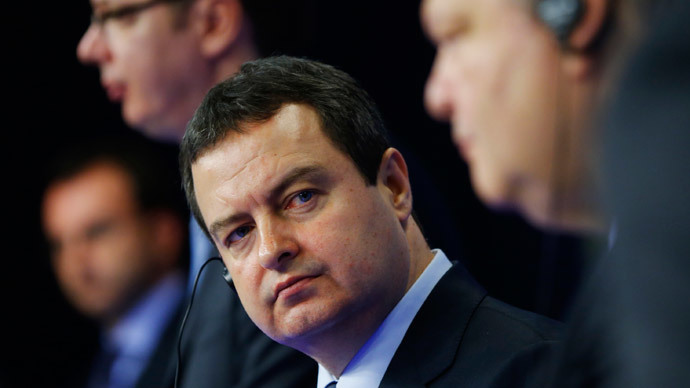 Serbia's foreign minister Ivica Dacic has proposed a limited free trade zone with Russia and has assured Moscow the South Stream gas pipeline project is safe. Russian companies meanwhile expressed readiness to invest up to $1bn in Serbia's infrastructure.
Under the plans put forward by the Serbian official, who is in Moscow until Wednesday for a session of the Intergovernmental committee on trade, economic and scientific and technical cooperation, the two countries should instantaneously drop tariffs on a number of goods, such as sugar, meat, poultry, cigarettes, alcohol and cars.
Russia's energy minister Aleksandr Novak said that Moscow was receptive to the proposal, but would have to clear it with other members of the Eurasian Customs Union, while agriculture minister Nikolay Fedorov said that the move could nearly double trade of comestibles between the states. The two countries traded only $270 million of agricultural produce last year, though overall trade between Russia and Serbia saw double digit growth last year.
READ MORE:Serbia ready to start dairy deliveries to Russia in 2-3 weeks
In the meantime, Moscow officials said that 26 Russian companies wish to gain access to the privatization of various state assets in Serbia, as well as investing $1 billion into the repair and upgrading of the country's railways network.
In turn, Dacic assured Moscow that the proposed South Stream pipeline through Serbia, which could bring up to €2 billion worth of investment into the Balkan country, is still on the cards.
"Everything is fine with the South Stream. We are ready to build it. All preparatory works are running as planned. All other matters will be settled between Russia and Brussels," said the Socialist Party politician.
The international proposal has been put on hold since the ramping up of the Ukrainian conflict, with Brussels pressuring the Balkan state into reviewing the intergovernmental agreement according to EU laws. Construction on the project, approved by Serbia in 2008, was scheduled to begin this year.
A leaked EU report due out on Wednesday showed that Serbia's participation in the South Stream, would likely hold back Belgrade from becoming a fully-fledged EU member in the short term.
"The intergovernmental agreement signed between Serbia and Russia to build the South Stream pipeline is not compatible with the acquis [EU laws]" says the text of the report according to EU Observer. It cites concerns over price agreement transparency, third-party access to networks, and unbundling of energy production and transportation assets.
"Serbia should not commence work on constructing South Stream until this agreement is aligned with the acquis," concluded the EU Observer report.
You can share this story on social media: