Serbia ready to start dairy deliveries to Russia in 2-3 weeks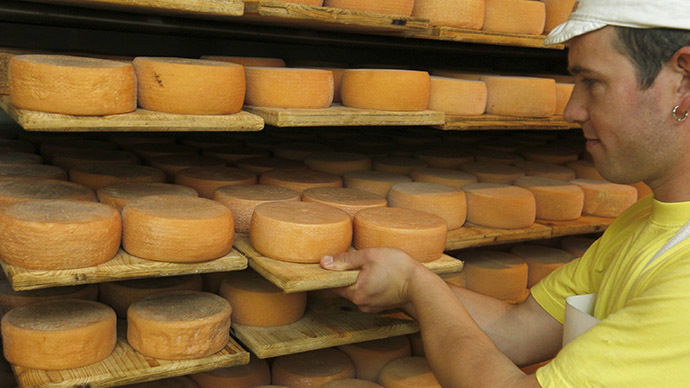 Serbia said it's ready to increase exports to Russia of dairy products, primarily cheese, in the next two or three weeks, adding to the list of countries providing substitutes for embargoed goods from the West.
"We will be ready to deliver dairy products from Serbia if the country's veterinary service is ready to provide guarantees," ITAR-TASS quotes Russian Agriculture Minister Nikolai Fyodorov after he met with his Serbian counterpart Snezana Bogosavljevic-Boskovic on Thursday.
Currently there are 41 firms in Serbia authorized to export food to Russia. Russia is ready to grant accelerated access to its market for up to 30 more suppliers, if the country is ready "to be responsible for the activities of these enterprises," Fyodorov said.
"Russia is interested in all our agricultural and food products, particularly meat, milk, fruit and vegetables. We can export as much cheese as we can produce," Snezana Bogosavljevic-Boskovic, the Serbian Agriculture and Environmental Protection Minister said, adding that such exports would not affect domestic market prices.
The Russian embargo on European agricultural goods created "a unique chance Serbia should use if it is able to meet Russia's high standards and regulations," Bogosavljevic-Boskovic said.
Trade in agricultural goods between the Russia and Serbia may almost double from $270 million to half a billion US dollars a year in a short time, Fyodorov assumed.
Serbia would not allow the re-export of European food products banned by Russia through its territory, the Serbian minister said.
"Our side is assuming great responsibility. We promise to do everything possible to control the export procedures," she said.
On top of that, Bogosavljevic-Boskovic said Serbia is willing to invest in joint agricultural investment projects together with Russian businesses.
Pakistan also said it was ready to replace Australian lamb imports, according to the country's new Ambassador to Russia Zaheer Aslam Janjua.
Earlier in the month Latin American countries, including Ecuador, Brazil, Chile, and Argentina confirmed they would increase meat and dairy product supplies which may appear on Russian supermarket shelves as early as September.
European Commission spokesman Peter Stano said on Friday the EU position concerning the substitution of temporarily banned European goods in the Russian market by third countries, including candidates to join the union, "is clear."
The European Union "expects" these states "will refrain" from substituting supplies.
READ MORE:EU denies bullying Russia's trade partners over food ban

You can share this story on social media: