​Gas supply compromise with Ukraine needs to be reached before winter – Medvedev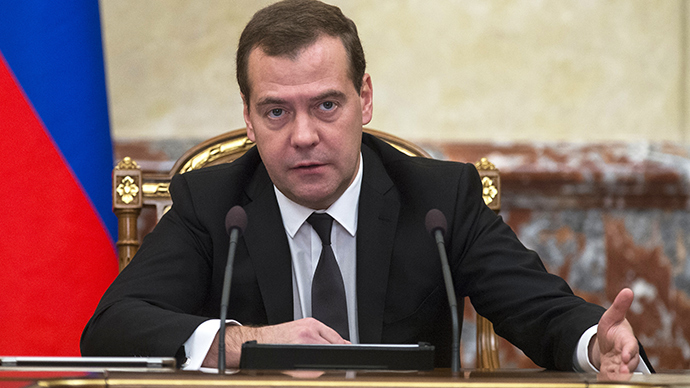 Moscow needs to continue seeking a gas supply compromise with Kiev, Russian Prime Minister Dmitry Medvedev said during a meeting with the country's energy minister. Both agreed it is crucial to resume gas supplies to Ukraine, as winter is on its way.
"Certainly, it's necessary to keep contact and also understand the necessity to pay debts. And the terms for Ukraine must be acceptable enough, and this is what your meeting with the European Commission (EC) is aimed at," Medvedev said, urging Russia's energy minister to resume Ukraine talks with the involvement of the EC.
Russian Energy Minister Aleksander Novak agreed.
"We assess the situation as difficult and the European Commission (EC) shares our concern," Novak said.
"The energy balance analysis shows that the volume of gas pumped in underground storage is not enough to pass the autumn and winter periods normally, without restoration of the current deliveries to Ukraine."
Novak said that the schedule of the debt restructuring until the end of the year has been discussed. "For today the European Commission is ready to repay the debt in the amount of US$3.1 billion," he said.
Russia, Ukraine, and the EU conducted three-way gas negotiations in Berlin in September, where they discussed a so-called "winter plan." The plan involves Ukraine paying Gazprom $2 billion as part of its gas debt by the end of October, and an extra $1.1 billion in advance payment by year's end, for five billion cubic meters of gas.
However, no final documents have been sealed, as the price and payment schedule remain stumbling blocks in the negotiations.
Ukraine is offering its own repayment schedule for $3.1 billion worth of debt, and does not agree with the proposed $100 per thousand cubic meters discount due to customs duty fees.
Novak rejected Kiev's conditions, saying it calculated the $3.1 billion cost at its own virtual price of $268.5 per thousand cubic meters of gas.