Ukraine must ensure gas transit to Europe - EU energy chief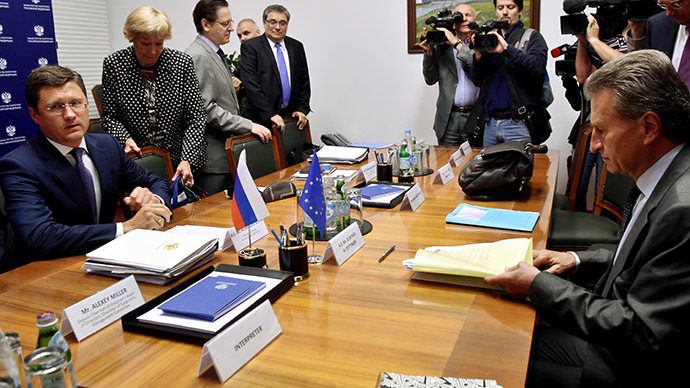 Russian-EU gas talks have progressed, but no solution was reached Friday over Russia and Ukraine's gas standoff. Moscow says their $100 gas discount to Kiev stands, and the EU doesn't want gas negotiations to be used to escalate the Ukraine crisis.
The gas situation is 'critical' Russia's Energy Minister Aleksandr Novak said after meeting with EU energy chief Gunther Oettinger in Moscow on Friday. The minister expressed concern about Ukraine's preparations for the winter months as gas supplies dwindle, and warned Kiev might siphon off Europe-bound deliveries.
Russia said the will resume gas deliveries to Ukraine if they pay $1.45 billion of their gas debt, Aleksey Miller, CEO of Gazprom, said. Naftogaz, Ukraine's national oil and gas company, has a total debt of $5.3 billion.
Russia again offered Kiev a $100 gas price discount, bringing the total price down to $385 per 1,000 cubic meters, a lower price it charges any of its European customers. However, before Gazprom can offer the discount, Kiev has to begin repaying their debt.
In June, Gazprom switched Ukraine to a prepayment system after Kiev refused to pay its billion dollar debt or agree to price negotiations. Russian gas still flows through Ukraine to Europe, but Kiev cannot take any gas they don't pay for up front.
In previous gas disputes, Russia has accused Ukraine of stealing gas.
Ukraine will likely run out of natural gas supplies before winter, as the country only has about 15 billion cubic meters in storage. Already, the government had to order a 30 percent cut in gas consumption to save up.
If Ukraine cuts off Russian gas transit, it would hit Europe, which sources 15 percent of its energy from Russia. Gazprom is working on strategies to deliver gas without Ukraine. Nord Stream, a set of twin pipelines that run under the Baltic Sea, began sending Russian gas directly to Germany in 2011. The pipe has a 55 billion cubic meter capacity.
Russia is also planning on completing a similar project for southern Europe, called South Stream.
The country is Europe's main energy source, supplying 30 percent of its natural gas. The most important transit pipeline between Russia and Europe is the 4,451 km 'Brotherhood' pipeline which stretches across Ukraine into Slovakia, and in 2013 delivered more than 50 billion cubic meters to Europe.
In the winters of 2006 and 2009, similar gas rows between Moscow and Kiev led Russia to cut off gas to Ukraine.
Ukraine imports nearly 50 percent of its gas from Russia, which in 2013 amounted to 27.7 billion cubic meters.
Earlier this week Ukraine's Prime Minister Arseniy Yatsenyuk claimed that Russia has a master plan to stop gas traveling through Ukraine to Europe in the winter months, which Novak later refuted as "groundless."
Both countries plan on taking separate cases to the Stockholm arbitration court. Gazprom wants to recover its $5.3 billion in debt and Ukraine is seeking a $6 billion sum for 'unfair' gas prices and asking the court to review prices that were agreed on in 2010 under then-Prime Minister Yulia Tymoshenko.
You can share this story on social media: