​Ukraine may have found a gas savior in Norway, Moscow skeptical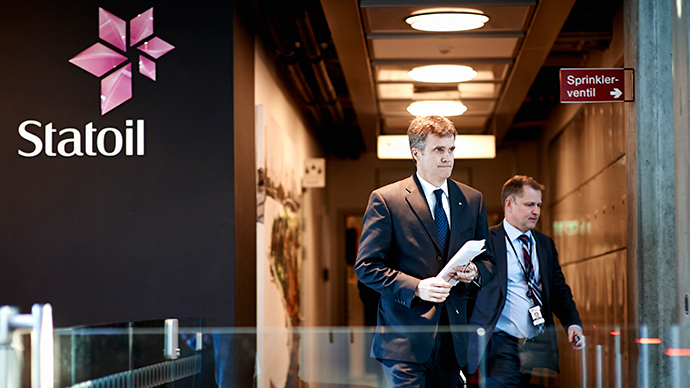 Naftogaz, Ukraine's biggest natural gas company, has signed a deal with Norway's Statoil and started receiving shipments, arriving just in time to possibly save Kiev from an energy crisis before winter. Experts in Moscow doubt the legality.
"Statoil has signed an agreement with yet another new-to-Statoil gas customer in the European gas market. The agreement with Naftogaz is for deliveries of gas in Slovakia," Statoil spokesman Morten Eek said, noting shipments began on Wednesday from Slovakia.
"From there, they are responsible for transportation," Eek said, but didn't specify the price Naftogaz is paying for the deliveries.
The spokesman said the deal is "short-term" and the volumes are "relatively-low".
Energy ministers in Kiev estimate they need 20 billion cubic meters of gas, or 5 billion more than they have in storage to get through the winter. Per year, Ukraine's requires about 50 billion cubic meters of natural gas.
However, experts in Moscow aren't convinced the gas will be sourced from Statoil.
"We aren't sure whose gas Statoil will be selling to Naftogaz, if it's theirs, or Russian. Among other things, the Norwegian company is a gas trader," Vyacheslav Mishchenko, Vice President of Argus Oil Products in Russia, told Gazeta.ru
"This is a typical swap. For example, the Norwegian company may take Russian gas from the Yamal-Europe pipeline that is intended for the UK market and sell it to Naftogaz," Mikhail Korchemkin, head East European Gas Analysis, told Gazeta.ru
When Russia turned off the gas in June,Ukraine turned to European countries in order to meet demand before winter. One way to maintain the supply is "reverse flow", which is the re-export of Russian gas to Ukraine, which Gazprom maintains is not legal.
Neighboring EU countries Slovakia and Poland, started reverse flows to Ukraine early in September, but have since halted, after accusing Moscow of sending less gas in retaliation. Later both countries resumed deliveries to Ukraine.
Hungary has indefinitely stopped gas deliveries to Ukraine after Gazprom boss Aleksey Miller visited Prime Minister Viktor Orban in Budapest in late September, and forged a new gas deal between the two countries.
Gazprom supplies Europe with about a third of its gas requirements, and Statoil is the second largest provider.
Russia will not start sending natural gas to Kiev until it pays off $2 billion of debt and provides a $1.9 billion advance payment for future supplies by the end of 2014.
The key reason Gazprom turned off supplies to Ukraine was that Kiev wasn't making progress in paying off its more than $5 billion debt.