Putin says no capital controls in Russia, as currency hits record lows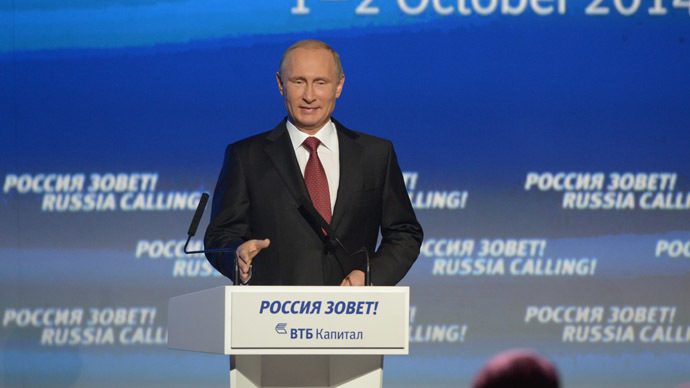 President Putin said Russia isn't planning on controlling foreign currency flows, putting to rest rumors that the weakening ruble would force the Central Bank to limit the free movement of currency across its borders.
Shortly after Putin's speech, the ruble was trading at 39.584 against the dollar, a nearly 15 percent drop in the last three months. On Tuesday, the ruble slid to a new record low of 39.71 against the dollar, the lowest since 1998.
The Central Bank of Russia issued a similar statement on Tuesday after media sources reported the bank was considering capital controls as the ruble continues to hit new record lows.
Capital controls are a monetary tool used by governments to fight a weak currency and huge outflows of money. Russia expects its capital outflow to top $100 billion in 2014.
Russia abolished capital controls in 2006.
One of the Central Bank's main tasks is to transition the ruble to a free floating currency by 2015, and has loosened monetary controls like currency intervention.
However, President Putin doesn't rule out more stimuli for the ruble on the path towards a free-floating currency.
"I must say that the Bank of Russia has enough instruments to maintain financial stability. I would also add that the Bank of Russia's transition to a floating rate does not mean overall cancellation of currency interventions," Putin said.
If the ruble continues to weaken, the Central Bank may decide to restart currency interventions, pumping in billions of dollars to prop up the ruble.
The Central Bank is juggling both a weak currency and stubbornly-high inflation, which has reached a 3-year high. The weak ruble is driving it up, and it is expected to reach 7.5-8 percent this year, up from 6.5 percent in 2013, Putin said.
Inflation is likely a temporary
Higher import prices, especially for food, show Russia needs to better develop domestic production, according to the president.
"This is an extra incentive for us to begin developing our own agriculture," Putin said. Last year, Russia grew its agricultural sector 6.2 percent, reducing dependence on foreign suppliers.
You can share this story on social media: