Russian Central Bank rejects capital controls as ruble hits lowest level since 1998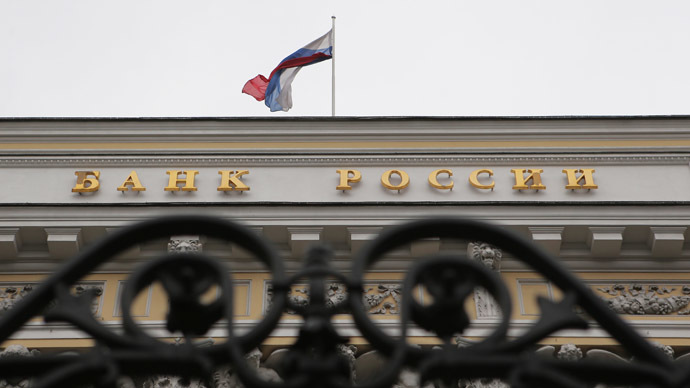 ​The ruble slid to a new record low of 39.71 against the dollar Tuesday. The Russian Central Bank has been quick to quash fears it would re-introduce capital controls to limit the amount of foreign currency purchases, or even moved outside the country.
"Bank of Russia is not considering the introduction of any restrictions on cross-border capital flows as it was reported in some publications in the mass-media," the bank said in a statement on Tuesday evening.
The bank's statement followed a report by Bloomberg News citing anonymous officials that the bank is considering imposing capital controls, as the ruble hit new historic lows.
The Central Bank said it would intervene once the euro-dollar currency basket against the ruble reached a level of 44.4, which it reached on Tuesday before quickly retreating.
Capital controls are a monetary tool that Russia's key lender could use to restrict money flowing overseas, which in Russia is projected to reach $100 billion in 2014, nearly on par with the $120 billion that fled in 2008 when the financial crisis hit. In 2007 Russia had a positive net capital inflow.
Andrey Kostin, Chairman and CEO of VTB, doesn't believe that Russia will impose capital controls just yet, talking to CNBC at VTB's annual investment forum 'Russia Calling!'.
"The basic issue now is whether the Russian leadership, under the circumstances, will switch to the model of a mobilization economy, and introduce the old mechanism of currency control, or they will stay on the principle of their open market economy. I think that is the big question that will be asked tomorrow," Kostin said.
Russia repealed capital controls in 2006, however last week Central Bank Chairwoman Elvira Nabiullina said that Moscow would consider "non-standard" mechanisms to ensure economic stability.
Capital controls aren't the only monetary tool the Central Bank could consider. If the ruble continues to weaken, it may decide to re-start currency interventions, pumping in billions of dollars to artificially prop up the currency. This would be a policy reversal for the bank, which has recently loosened its monetary controls in order to make the overvalued ruble free floating by 2015.
"Never say never, but not at this stage, definitely not," the VTB CEO said when asked if capital controls are on the horizon.
You can share this story on social media: