EU-Ukraine pact can be changed, but only by Brussels and Kiev - Barroso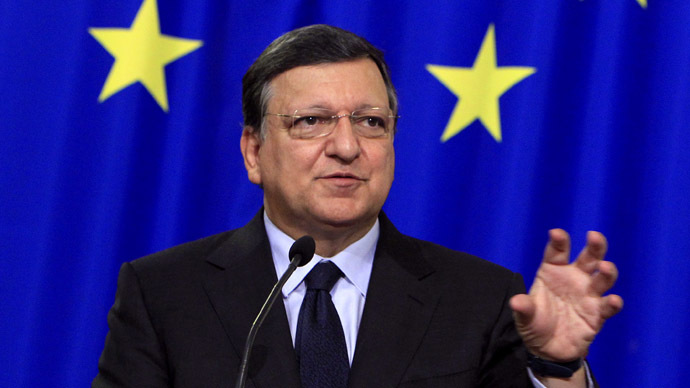 Revisions of the EU-Ukraine trade deal are possible, but only at the request of Brussels or Kiev, not Moscow, the head of the European Commission said, stating that the EU has "strong concerns" over Russia possibly cancelling duty-free trade with Ukraine.
"The Association Agreement (between the EU and Ukraine) remains a bilateral agreement and ... in line with international law, any adaptations to it can only be made at the request of one of the parties and with the agreement of the other."
European Commission President Jose Manuel Barroso said in a letter addressed to President Putin, published Wednesday.
Barroso said that the EU is ready to discuss changes to its trade pact with Ukraine, but only if Kiev asks for the revisions, in an interview published in the Wall Street Journal last Thursday.
The EC chief's letter was in response to one penned by the Russian President on September 17, just days before Prime Minister Dmitry Medvedev signed a decree allowing Russia to cancel duty-free trade for Ukrainian food products and manufactured goods if Kiev enters the EU trading zone before 2016.
"We have strong concerns about the recent adoption of a decree by the Russian government proposing new trade barriers between Russia and Ukraine," Barosso's letter said.
"We consider that the application of this decree would contravene the agreed joint conclusions, and the decision to delay the provisional application of the trade related part of the Association Agreement," he continued.
The EC head anticipates that future talks will be held on how to "address concerns raised by Russia." Moscow is worried a flow of European goods into the Russia via Ukraine would be a threat to its domestic market.
The Association Agreement was ratified on September 16 by both the European and Ukrainian parliaments. The Minsk Protocol will delay Ukraine's full integration into the EU.
READ MORE: Ukraine and EU ratify landmark Association Agreement
In his letter, President Putin addressed both Barroso and Ukrainian President Poroshenko, and he urged the two parties to revise the agreement to shield Ukraine from "disastrous financial consequences," as the Ukrainian and Russian economies are highly integrated. On September 12, Ukraine and the EU agreed to go ahead with the trade pact, but delay the start date until January 2016.