PM Medvedev authorizes import duties on Ukrainian products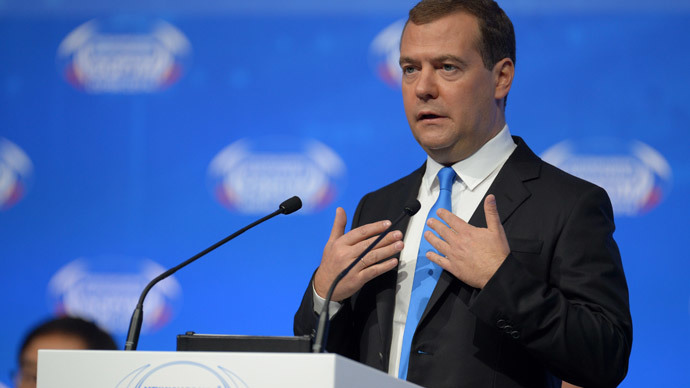 Russian Prime Minister Dmitry Medvedev has signed a decree allowing Russia to cancel duty-free trade of Ukrainian food products and manufactured goods if Kiev enters the EU trade zone before 2016.
The duties will only be imposed if Ukraine adopts the economic terms of the EU Association Agreement before the agreed start date of January 1, 2016.
A flood of European goods into the Russian market via Ukraine could threaten Russia's economy, the prime minister said at a plenary session at the Sochi International Investment Forum.
"We cannot allow any of the terms of the agreement that pose a threat to our market to start ahead of schedule, disguised as Ukrainian goods," Medvedev said.
Russia, Ukraine, and the EU agreed to postpone Ukraine's integration into the EU in order to protect both Kiev and Moscow from economic risk.
If #Ukraine adopts the economic terms of the EU Association Agreement too early #Russia will impose duties on a number of Ukrainian products

— Government of Russia (@GovernmentRF) September 19, 2014
The measures are being enacted to protect Russian producers from unfair competition.
Once Ukraine enacts the Association Agreement and the Deep and Comprehensive Free Trade Area (DCFTA) with the EU, it can no longer have a free trade zone with Russia and the other CIS states.
On September 16 the Ukrainian parliament and the EU ratified the economic and political parts of the Association Agreement that will strengthen ties between Kiev and Brussels, but jeopardized Russia-Ukraine trade.
In 2013, Ukraine exported goods worth $16 billion to Russia, nearly 25 percent of total exports. In comparison, Ukraine exported $17 billion to Europe in the same 12-month period.
At talks with Ukrainian President Petro Poroshenko in Minsk in August, President Putin warned that stopping duty-free trade with Russia will cost Ukraine €165 billion over the next 10 years.
You can share this story on social media: