Cloud over Air France low-cost carrier expansion as strike deepens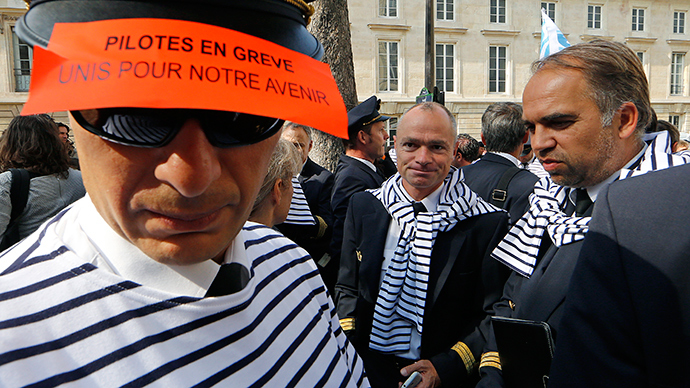 Strike-hit Air France has found itself at odds with the government over the fate of the company's low-cost carrier Transavia. The French transport minister says plans for the subsidiary's expansion were abandoned. The company denied that within minutes.
The French Transport secretary Alain Vidalies said in a radio interview that the airline had withdrawn its plans for Transavia expansion.

"The Transavia Europe project has been abandoned," Vidalies told RMC radio, as cited by Reuters. "It isn't suspended for three months, it's been withdrawn by management."

Soon after that, however, Air France's spokesman Cedric Leurquin told journalists that the minister's announcement was a "premature" one.

"There is no change in the negotiations to suggest that this project has been withdrawn," the spokesman said, according to AFP. "The proposal on the table remains to freeze this project and to begin a wide dialogue with social partners between now and the end of the year, as management announced on Monday."

Confusion over the fate of Air France's low-cost off-shoot comes amid the ongoing strike by the company's pilots, which started last Monday and has been the longest one the company has experienced since 1998.
Strike action: #AirFrance traffic forecast: 46% of flights due to operate on 24/09 #atyourservicehttp://t.co/bMbIJIARWX

— Air France Newsroom (@AFnewsroom) September 23, 2014
Air France's pilots have been opposing the plans to expand the low-cost flights of the Transavia brand and establishing foreign bases for it, as they believe the move would undermine their salaries and working conditions. They can currently earn up to 250,000 euro (approximately US$320,000) a year, which is considerably more than what Transavia pilots are paid.

The strike that has already lasted for 10 days is causing the airline to lose up to 20 million euro ($26 million) daily, the company says.

France's Prime Minister, Manuel Valls, called on the pilots to end their strike on Tuesday, warning that their walk-out "damages the image of France and represents a real danger for the company."