Airlines lose billions amid rumors of trans-Siberian flight blockade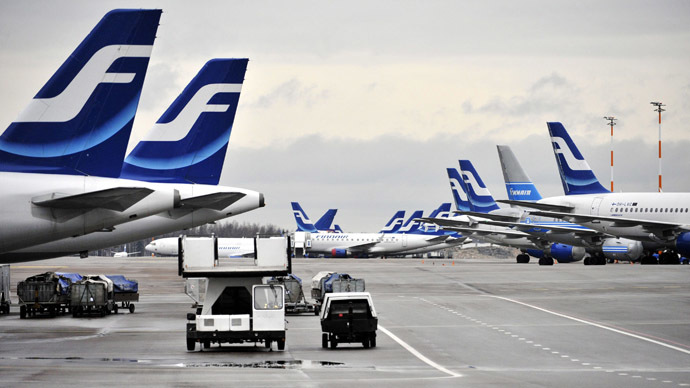 Major airlines saw stock shares nosedive on Wednesday, after media reports said that Russia could block flights over Siberia. However, Russian Foreign Minister Sergey Lavrov said the reports are simply rumors.
"I'm not an advocate of using the method of bans and creating real problems for passengers, ordinary citizens who have absolutely no connection to the actions of those who unleashed this war," Lavrov said on Wednesday.
Tuesday media reports said Dobrolet fallout could lead the Russian government to close its airspace altogether, forcing flights from Europe to Asia to reroute, costing billions. Each EU country has a bilateral agreement with Moscow on flying over Russian air space, and Russia is legally entitled to close it off, according to the European Commission.
By mid-day Wednesday, Western airline shares had lost an estimated $4.5 billion, dragging down European markets, ITAR–TASS reports.
Air France stock dropped 4.7 percent to €7.15 per share, and over the past two days the company has seen its market capitalization fall 11 percent, or €220 million.
Germany's Lufthansa saw shares sunk 2.9 percent to €12.45, losing approximately €570 million, or 10 percent of its value.
Finnair fell by 2.2 percent to just €2.6 per share, and over two days the company's value lost €30 million.
Irish budget carrier Ryanair has lost a total of €184 million in the last two days, with shares falling by 2 percent down to €6.61.
International Airlines Group (IAG), the holding company of British Airways and Iberia, saw shares fall 6.5 percent and lost more than €745 million.
American exchanges also suffered big blows from the air space scare. At the New York close, Delta Airlines had seen its capitalization down $1.1 billion.
American Airlines lost $675 million, or 2.5 percent of its market cap and United Airlines lost $562 million.
Aeroflot, Russia's national carrier was also crushed by the news, and lost nearly 9 percent of its market value over the past two days, or nearly $5 billion of the companies total $52.52 billion market capitalization.
Before Dobrolet announced it was suspending flights, Aeroflot stocks were trading at $49.90, and at the time of publication, had tumbled to $44.98. The company has already lost more than 45 percent of its market cap since the beginning of 2014. On January 1, 2014, stocks were priced at $83.00.
READ MORE: Putin asks government to develop countermeasures to Western sanctions
You can share this story on social media: