China ready to ramp up fruit & veg exports to Russia – official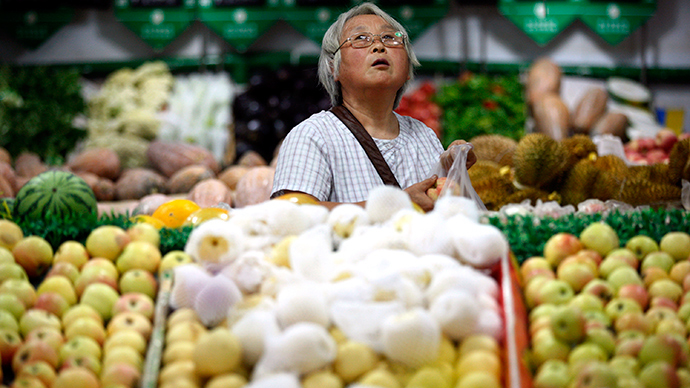 Beijing is ready to meet fruit and vegetable demand in Russia after Moscow's food embargo on the West, a Chinese commerce official said. Boosting agricultural trade, already worth $20 billion a year, would further cement Russia's links with China.
The eastern Chinese region of Shandong is ready to meet these demands, Izvestia newspaper reported Wednesday, citing the director of the Department of Commerce in the province, Zhang Qingwei.
Situated on the east coast between Beijing and Shanghai, Shandong is China's agricultural powerhouse – producing $141 billion in agricultural products annually. The region is home to 94 million people.
Shandong is ready to supply carrots, ginger, garlic, pepper, peas, pumpkins, zucchini, squash, tomatoes, cucumbers and broccoli as well as, peaches, pears, grapefruit and watermelon to Russia – and in return is eager to import grain, rapeseed and honey from Russia.
"If we reorient from the West to China, even 1 percent of total agricultural products from Shandong will more than cover the needs of Russia," Yakov Lyubovedsky, head of the Russian Organic Farming Union, told Izvestia.
Qingwei, the Shandong official, said that a delegation from Shandong is currently in talks with representatives from Russian agriculture groups to better understand the supply and demand dynamics of Russia's new import substitution policy, which hopes to boost domestic agriculture.
Roselkhoznadzor, Russia's consumer protection agency, has confirmed that Moscow and Beijing are discussing an agricultural trade deal, and that China is interested in doing more business with Russia.
READ MORE: China to start direct sales of fruit and vegetables to Russia
Earlier, RT reported that China is planning to begin the direct sales of fruit and vegetables to Russia in light of the loss of European products on the Russian market.
On August 7, Russia introduced a one-year ban on imports of some agricultural products from the EU, US, Australia, Canada, Australia and Norway. The move could cost the EU and other Western countries the equivalent of $9 billion in food exports.
You can share this story on social media: