Tesco shares tumble after company overstated profits by £250mn
The UK's biggest supermarket chain Tesco suspended four executives, including its UK managing director, after it admitted it overstated profits for the first half of 2014 by almost a quarter.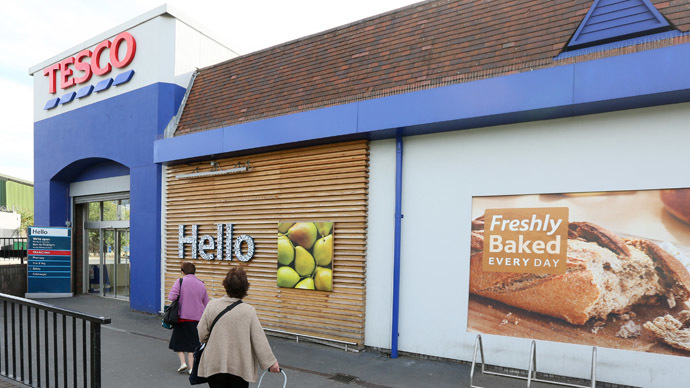 The announcements shocked investors, with shares dropping more than 11 percent in early trading, before recovering slightly to around an 8 percent fall. The stock price for Britain's largest retailer by revenue is down more than 43 percent in the last year.
Tesco is Britain's largest private sector employer, with over 500,000 staff.
In August the company said its half-year profits would come to around £1.1billion. That figure is now likely to be around £850 million, which is almost a quarter less than expected for the period.
The company said in a statement: "On the basis of preliminary investigations into the UK food business, the board believes that the guidance issued on 29 August 2014 for the group profits for the six months to 23 August 2014 was overstated by an estimated £250m. Work is ongoing to establish the extent of these issues and what impact they will have on the full year."
Tesco asked Deloitte to undertake an independent review, in cooperation with the group's external legal advisers Freshfields.
"We have uncovered a serious issue and responded accordingly," said Tesco Chief Executive Dave Lewis. "The Chairman and I have acted quickly to establish a comprehensive independent investigation."
Lewis said on Monday that an "informed employee" had notified Tesco's legal team of the accounting error. Tesco said it got its numbers wrong by overstating income and understating costs.
The supermarket chain said it would now announce its interim results on 23 October 2014, three weeks later than scheduled.
UK managing director Chris Bush has been suspended, according to BBC Radio 5 Live. Sky News also reported that Carl Rogberg, Tesco UK finance director, was among the four executives who have been suspended.
The announcement also raises the question of why the company's auditors PricewaterhouseCoopers did not spot the error.
Tarnished reputation
Tesco's previous chief executive Philip Clarke stood down in July after his £1 billion recovery plan to revive the business failed.
Under Clarke, Tesco issued three profit warnings in two and a half years as it lost UK market share to fast-growing German discounters Aldi and Lidl as well as upmarket rivals like Waitrose.
With a market valuation of £18.8 billion, Tesco reported two decades of uninterrupted earnings growth. Since the profit warnings and loss of market share its share price had fallen to decade-lows.
Tesco faced a number of problems in the past year alone.
In January 2013, it emerged that food inspectors had found almost 30 percent horsemeat in one brand of burger sold by Tesco. Tesco issued a nationwide advertising campaign apologizing for selling beef burgers that were found to contain horsemeat. "We and our supplier have let you down and we apologize," the ad said.
Costly mistakes abroad, such as a failed US venture, also had a negative impact on Tesco. In September last year the company sold most of its loss-making US Fresh & Easy stores to an investment company.
Also in 2013, two Tesco pork chops labeled as British were found to have come most likely from the Netherlands.
Shares in Tesco reached an 11-year low in August after it cut its full-year profit forecast to £2.4bn from £2.8bn.
Analysts quickly reacted to the announcement. Shore Capital analyst Clive Black said the development is surprising. "Such an announcement is not the stuff of a well operated FTSE-100 organization," he said.
You can share this story on social media: