China CO2 emissions outpace EU and US, 45% above global average
China has passed the EU for the first time in terms of per capita emissions in 2013, according to a new scientific report. Globally, the limit for atmospheric carbon will be reached in 30 years if pollution continues at the current pace, the report warns.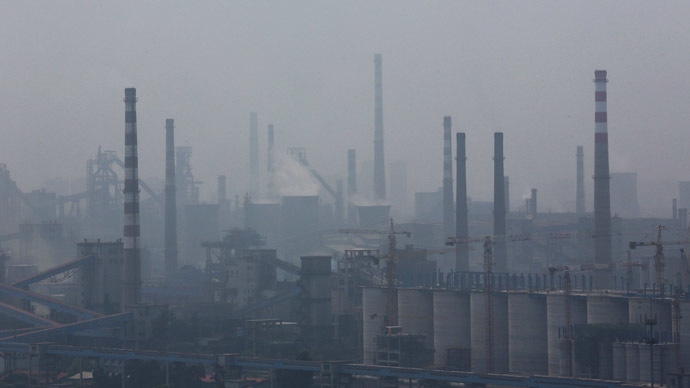 The world's second largest economy and most populous country is now producing a greater share of CO2 emissions than both the EU and US, which pioneered the industrial revolution and the so-called second industrial revolution, a report by the Global Carbon Project found.
Emissions in 2013 were dominated by China (28 percent), the USA (14 percent), the EU (10 percent), and India (7 percent), meaning that the top four polluters account for 58 percent of total emissions.
Trends show that India could soon also out-pollute the EU.
From 2012 to 2013, India's emissions grew 5.1 percent, China was up 4.2 percent, the US expanded 2.9 percent, and the 28-nation EU managed to slash emissions 1.8 percent. Emissions in the UK decreased by 2.6 per cent in 2013 since it cut back on coal and gas use.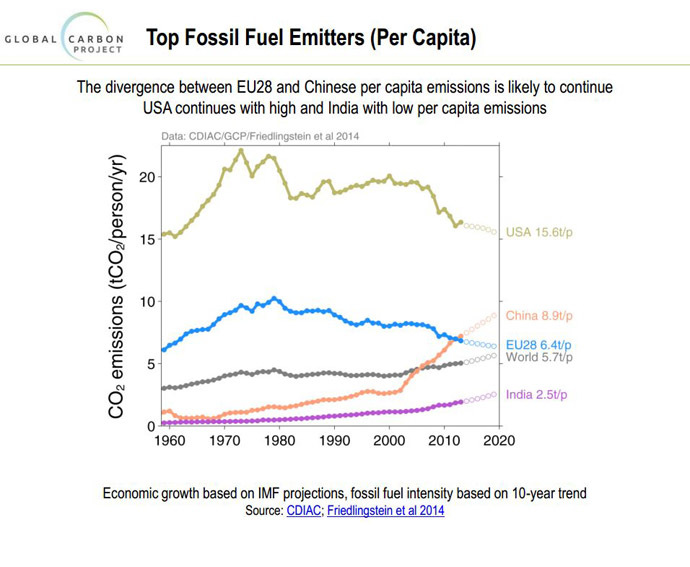 On average, each person in China produced 7.2 tons of carbon dioxide last year, compared to 6.8 tons per head in the EU. Globally, the average carbon dioxide produced per person was 1.4 tons. The US still has the highest per capita emissions at 16.4 tons of carbon dioxide per person.
As a major exporter, 16 percent of China's emissions are created producing goods and services that are exported.
In 2014 emissions are set to reach another record high, with an expected 40 billion tons of CO2, according to the report.
The 2.4 percent increase from last year is 65 percent above 1990 levels, when the Kyoto Protocol was established to lower fossil fuel emissions.
The scientists found that humans have unleashed about two-thirds of total possible fuel emissions since 1870 that are permissible without causing irreversible changes to the planet. The US and EU are responsible for most of these discharges.
The study was a collaboration of 88 scientists from 68 separate organizations from 12 different countries.
Top 10 Global CO2 Polluters

Top 10 CO2 emitters 2013
% of world total
China
USA
EU
India
Russia
Japan
South Korea
Iran
Saudi Arabia
Canada
27.6
14.5
9.6
6.7
5.0
3.4
1.7
1.7
1.4
1.4
Source: Data from World Carbon Report
The report was released on Sunday September 21, before the September 23 United Nations New York Climate Summit, where 120 global leaders, including US President Barack Obama will set out their climate change policy agenda.
"Politicians meeting in New York need to think very carefully about their diminishing choices exposed by climate science," the report warns.
China is however, taking steps towards cleaner energy. In May, it signed a 30-year deal with Russia to provide natural gas, which should lessen its dependence on dirty coal.
A huge rally against climate change was held in New York over the weekend, which organizers of the People's Climate March dubbed as the 'biggest ever' as up to 310,000 people are thought to have taken part.
The rally was sprinkled with celebrity activists, from former US Vice President Al Gore, UN Secretary General Ban Ki-moon, and Hollywood actor Leonardo DiCaprio.
You can share this story on social media: