Gas hungry China trims back shale goal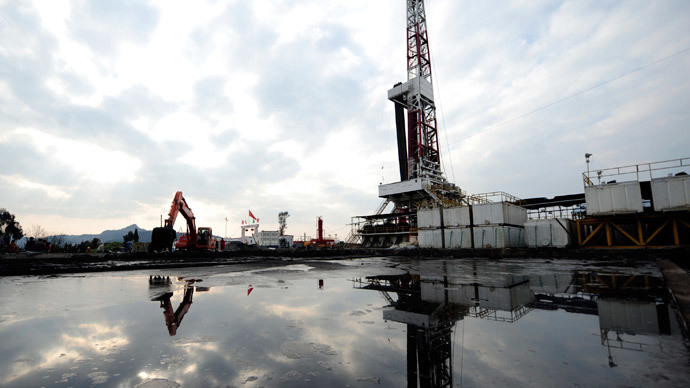 China has halved its 2020 goal for shale gas production. The country faces challenges ranging from difficult geology to shortage of technology in the area meant to quench its ever-growing energy needs.
The country is only starting mass production of shale gas, which drastically changed the energy landscape in the US in recent years, with the extraction of 200 million cubic meters annually.
In 2012, when Chinese shale gas production was virtually non-existent, Beijing eyed an ambitious goal of 60-80 billion cubic meters (bcm) by 2020, but the latest plans from the Ministry of Land and Resources on Wednesday lowered it to more conservative 30 bcm. A higher figure is possible, but conditional.
"China aims to pump at least 30 billion cubic meters of shale gas by 2020. With proper drilling technology, output can increase to 40 to 60 billion cubic meters," Che Changbo, deputy director of the ministry's geological exploration department, said at a news conference in Beijing.
Short-term prospects for shale gas production are more optimistic, according to the ministry. It will surpass the old government 2015 target of 6.5 bcm next year and hit 15 bcm in 2017.
China has carved out 54 shale gas blocks spanning 170,000 sq km. Producers have drilled 400 wells, including 130 horizontal.
The ministry said the economies of scale and localization of drilling technology are making shale gas more commercially attractive in China. The cost of one well has fallen from 100 million yuan to 50 to 70 million yuan, while the drill time dropped from 150 days to between 46 and 70 days.
But the industry is still hurdled by several problems, including complex geology, shortage of advanced technology and skilled personnel and regulation barriers. There is also the dominating position of two state-owned giants, PetroChina and Sinopec, which enjoy a privileged access to fields discouraging private investment.
China has been relying for decades on coal for the majority of its energy production, is undergoing a switch towards cleaner gas. The country is expected to consume some 311 bcm of the fuel by 2020, with conventional domestic production supplying only 200 bcm. Shale gas was hoped to reduce the dependence on gas imports.
You can share this story on social media: