​McDonald's suffers worst monthly decline in more than a decade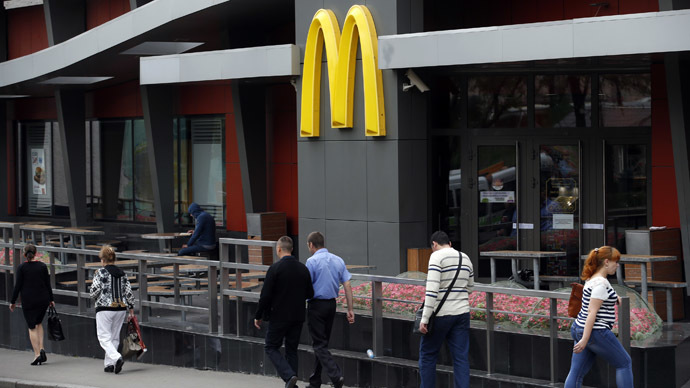 The American fast-food giant witnessed a sharp decline in global profits in August, hit by the closure of its restaurants across Russia and a "rotten meat" scandal in China.
McDonald's earnings slid with stores open at least 13 months taking a worse-than-expected hit in August, falling 3.7 percent, the Oak Brook, Illinois-based hamburger chain said in a statement on Wednesday. This is the biggest monthly drop since 2003, according to Bloomberg. Market analysts had expected a 3.1 percent drop in earnings.
Across Europe, where McDonald's brings in a hefty 40 percent of its total earnings, proceeds were down 0.7 percent.
Much of the decline is connected to Russia, where health officials last month closed 12 stores, including the first-ever McDonald's outlet in Russia, which opened to tremendous fanfare on January 31, 1990 in the center of Moscow, as well as two in Sochi, the host of the 2014 Winter Olympics.
Meanwhile, Russian health inspectors are investigating hygiene conditions at 100 McDonald's outlets nationwide over alleged issues.
READ MORE: 12 McDonald's restaurants temporarily closed in Russia, 100 inspections underway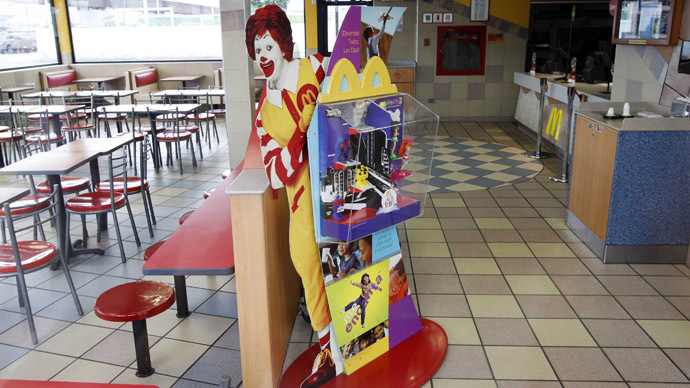 The closure of three of its outlets in Moscow came at the same time that Russia introduced a one-year embargo on agricultural products from the United States, the EU, Canada, Australia and Norway, in response to Western economic sanctions over Moscow's alleged involvement in the Ukraine conflict.
READ MORE: Russia bans agricultural products from EU, USA, Australia, Norway, Canada
The fast-food giant said it will "do everything it can" to continue operations in Russia.
Last month, Deputy Prime Minister Arkady Dvorkovich said that Russia has no plans to completely shut down the restaurant chain.
"No one is talking about it at all (a ban on McDonald's in Russia)," he told reporters. "It has just happened that the inspections were completed at the same time (as the ban on Western goods)," Dvorkovich said.
McDonald's has 440 outlets and over 35,000 employees in Russia, which ranks among the company's top seven markets - outside the United States and Canada - according to its 2013 annual report.
The fast-food company sold more than $1.5 billion worth of meals to Russian customers in 2013, attracting one million people daily to its outlets in Russia, according to its website.
At the same time, domestic demand for the food franchise sank for the fourth straight month in August, falling 2.8 percent.
Meanwhile, the company's Asian markets took a major hit after it was reported that Chinese meat supplier OSI Group LLC was investigated for changing the expiration dates on food, prompting fears among consumers. Sales in the company's Asia Pacific, Middle East and Africa division plummeted 14.5 percent last month.
READ MORE: 'Rotten apologies': McDonald's, Yum say sorry after reports they used outdated meat in China
The poor economic data comes at a particularly hard time for the American hamburger chain, as US fast-food workers have been staging protests demanding higher wages, and the debate over high obesity rates in the United States is causing many consumers around the world to look for healthier food choices.
Shares in McDonald's, which serves around 68 million customers daily in 119 countries across 35,000 outlets, declined 1.5 percent to $91.09 on Tuesday. The company is scheduled to release third-quarter earnings on October 21.
You can share this story on social media: