​Facebook's market value exceeds $200 bn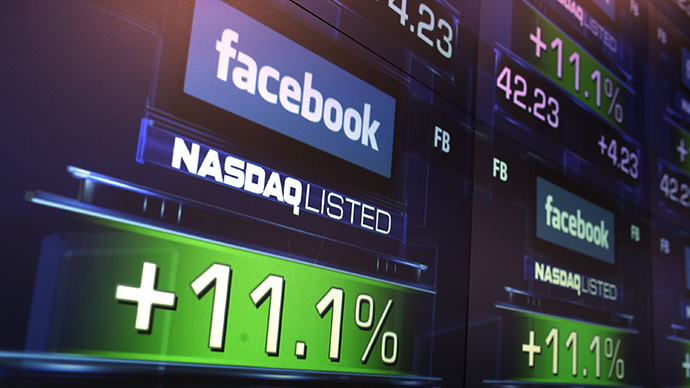 The stock market value of Facebook passed the $200 billion mark for the first time on Monday, surpassing Google in terms of the pace of its increasing market capitalization.
The social network is now worth more than technology old-timers such as IBM, Intel and Oracle, as well as Toyota, Coca-Cola, and Bank of America, standing on a par with HSBC.
The company's stock closed at a record $77.89, giving it a market capitalization of $200.9 billion, less than two and a half years after the IPO fiasco.
That leaves Facebook worth almost exactly half of Google, which closed at $601.63 at a valuation of $400.4 billion on Monday.
Google reached $200 billion in October 2007 more than three years after its September 2004 IPO. However the 2008 crisis caused shares to fall back sharply and it took until late December 2009 to recover.
Since mid-2012 Google's valuation has increased by about 75 percent, while Facebook's has leaped by more than 330 percent.
Facebook stock has increased 9.3 percent since July 23, after the company reported a 61 percent jump in sales during the second quarter to $2.91 billion. The mobile platform accounted for 62 percent of total ad sales, having increased from 59 percent a quarter earlier.
In February Facebook acquired the messaging application WhatsApp for $19 billion. The company has also purchased virtual reality headset maker Oculus VR Inc for nearly $2 billion. Facebook founder Marc Zuckerberg said the virtual headset will be a major communications device after mobile phones.
The company also announced on Monday it now has 100 million users in Africa.