​Russia suspends all confectionary imports from Ukraine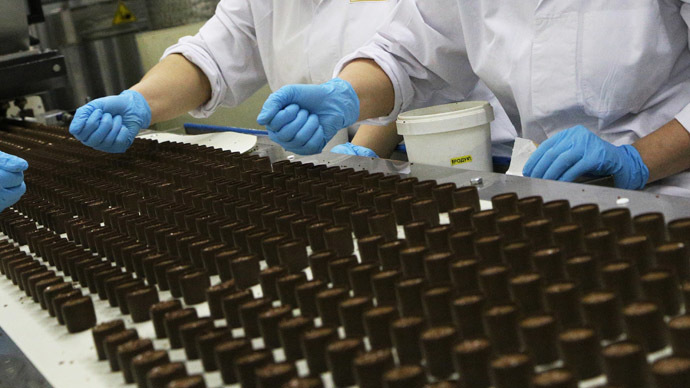 Russian consumer watchdog Rospotrebnadzor has suspended all confectionery imports from Ukraine after discovering two Ukrainian companies broke consumer protection laws.
"In order to ensure the rights of consumers, starting September 5 Rospotrebnadzor is suspending the import of confectionary goods produced in Ukraine to the Russian Federation," the watchdog said in a statement on Friday.
The restriction came after two Ukrainian confectionary companies AVK and Konti failed to comply with labeling standards.
AVK and Konti form the bulk of confectionary imported by Russia from Ukraine.
At the end on July 2013 Russia halted imports from another Ukrainian confectionary company, Roshen, citing food safety concerns. The Roshen Confectionery Corporation is owned by Petro Poroshenko, who was elected president in May this year.
The importation bans by Rospotrebnadzor should not be considered political as the restrictions are based on the law, the deputy head of the Constitutional Committee of the State Duma Vadim Solovyov said.
"We were supplied with bad wine, with not high quality water; with bad food…these restrictions are imposed legally. We prohibit the import only of those goods that don't meet the standards and agreements that we have," said the deputy.
Previously Russia has also curbed imports of a range of other goods from Ukraine over quality issues, including dairy products, fruit juice, and beer.
Meanwhile Kiev intends to impose economic sanctions against Russia stopping the import of 94 commodity groups worth about $3 billion, Ukrainian media reported. Restrictions may cover food, cosmetics, medicine, alcohol, and caviar.
The measures are unlikely to have any real economic impact on Russia, as Ukraine only accounts for 4.5 percent of Russian exports.