​'Chocolate war': Ukraine's Roshen confectioner fined $70 mn in counterfeit probe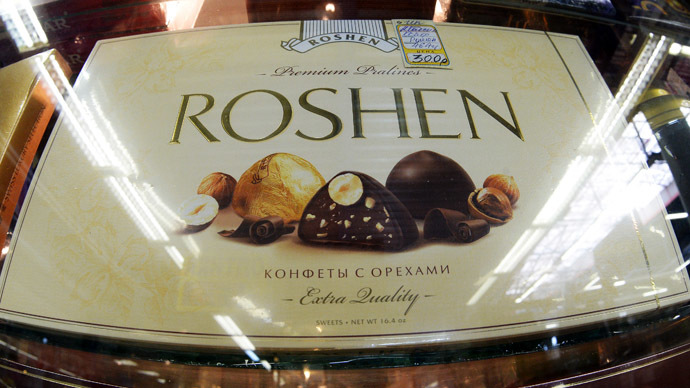 Prosecutors have accused Ukrainian confectioner Roshen of producing counterfeit products, and it has suspended production at its Lipetsk factory in southwest Russia. Imports of Roshen chocolate were banned by Russia last summer.
Russia's Uniconf has filed a lawsuit against the Ukrainian sweet manufacturer claiming $70 million in compensation.
On March 14, 2014 the Tverskoi Court in Moscow seized the accounts of Roshen enterprises in Russia, after the Russian law enforcement agencies carried out an inspection of the Lipetsk confectionery plant.
"If we continued working we'll have to take commodity credits and have debts to pay to suppliers. No one will lend us money in the present situation," as Interfax quotes CEO of Roshen, Viacheslav Moskalevsky.
In July 2013 Rospotrebnadzor, the Federal Service for Supervision of Consumer Rights Protection and Human Well-Being, banned the import of the Ukrainian confectionery.
As Russia is the main market for Roshen sales fell by 6 thousand tons a month. This forced the company to close its factory in Mariupol, Ukraine.
A month later in August 2013, Belarus decided to join Russia and ban the transit of confectionary, causing an approximate $200 million loss in revenue.
During the last 6 months Roshen has been only selling in Russia production from the Lipetsk factory, amounting to 10 thousand tons a month.
Now the confectioner plans to dispute the Tverskoi Court of Moscow decision.
"We plan to file a counter-claim against the ruling. Now all our efforts are aimed at overturning the court ruling or at least reducing the blocked sum so that the enterprise is able to function. A total of around 1.7 billion rubles has been seized," Moskalevsky said.
Roshen is one of the largest producers of confectionery in Ukraine. The company makes up to 200 different types of confectionery: chocolate and jelly candies, caramel, cookies, wafers, swiss rolls and pies. Total production is about 450,000 tons a year.
You can share this story on social media: