EU prepares emergency 'Plan B' blueprint in case Russia halts gas - report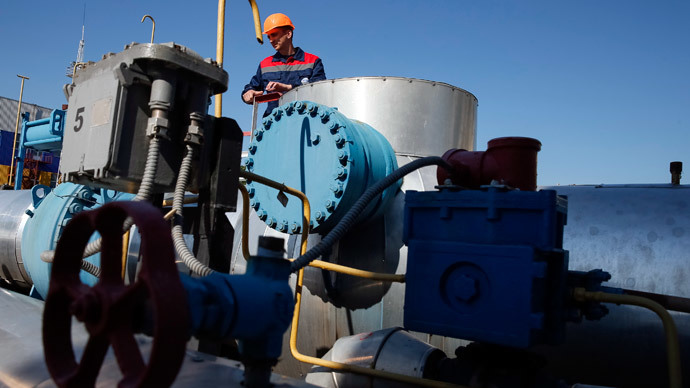 The European Union may ban the 're-selling' of gas and limit industrial use as part of a contingency plan to create a stockpile for next winter, in case Russian gas stops flowing through Ukraine, according to a European Commission source.
Foreseeing a possible halt in supplies over the political standoff between Russia and Ukraine, Europe has an emergency plan to stock up on energy supplies, the source told Reuters.
"In the short-term, we are very worried about winter supplies in southeast Europe," the source, who has direct knowledge of the Commission's energy emergency plans, told the news agency. Europe gets a large proportion of its energy from Russia, which supplies about 30 percent of its natural gas needs, as well as oil and coal. The EU has urged Ukraine to ensure gas transit to Europe.
Latvia, Lithuania, Estonia, Finland, Bulgaria and the Czech Republic import 100 percent of their natural gas from Russia and logically want to diversify their import options. Slovakia, Hungary, Slovenia, Austria, Poland, Turkey, and Greece all receive more than 50 percent of their natural gas from Russia.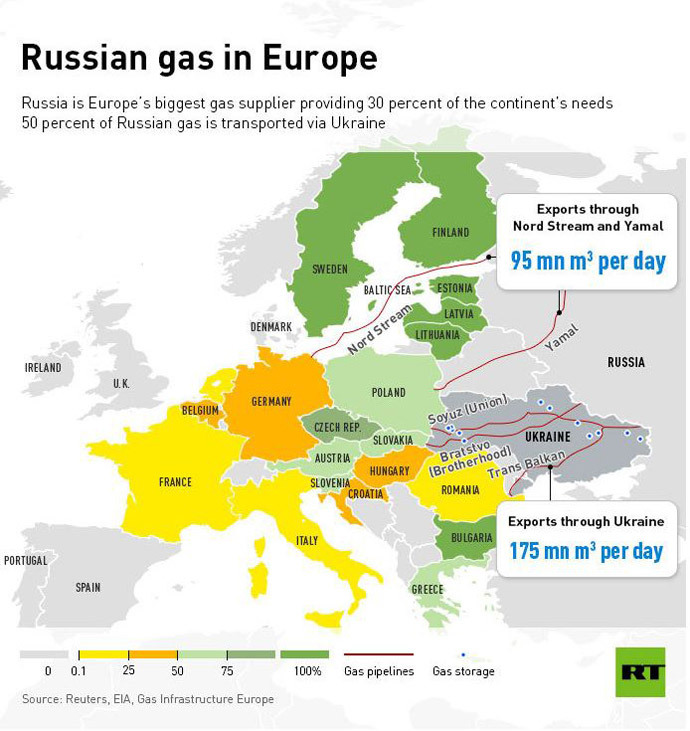 Halting industrial output would put the already-struggling EU economy at great risk.
To save, Europe would no longer 're-sell' any LNG gas imported from the Middle East and North Africa. Often it sells it abroad instead of on the domestic market.
"Our best hope in case of a cut is emergency measure 994/2010 which could prevent LNG from leaving Europe as well as limit industrial gas use in order to protect households," the source said.
European Union Regulation 994/2010 was passed in 2010 to safeguard Europe against any supply disruption, after Moscow turned off the gas in 2009.
The legislation could include banning gas companies from selling LNG outside of Europe, keeping more gas in reserve, and ordering industry to stop using gas.
"In order to reduce the impact of potential crises triggered by the disruption of gas supplies, Member States should facilitate the diversification of energy sources and gas delivery routes and supply sources," the legislation reads.
The escalating political crisis in Ukraine and the risk of the pipes being turning off has already spiked gas prices 35 percent since July, Reuters reported.
Ukraine's Prime Minister Arseniy Yatsenyuk warned that Russia will turn off gas supplies; however Moscow claims these claims are based on "disinformation" and has warned that Ukraine will siphon off gas meant to reach Europe. Russia turned off gas to Ukraine in 2009 after Gazprom claimed Ukraine stole gas intended for European customers. After this, the Russian company built the alternative Nord Stream pipeline route to guarantee supplies to Europe.
You can share this story on social media: