​Dobrolet Plus to replace Aeroflot's sanctioned budget airline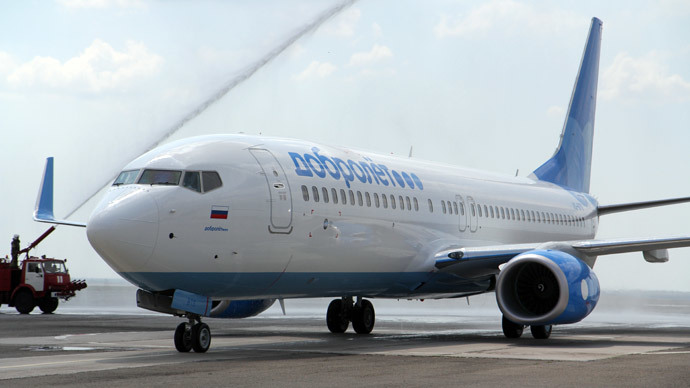 The successor to Aeroflot's low-cost carrier Dobrolet – grounded by EU sanctions – will be little different from its predecessor and will return to the skies this fall under the name Dobrolet Plus.
Internet domain names have already been purchased, Izvestia newspaper reports, adding that Aeroflot has not denied the airline's new name.
The company acquired domains dobroletplus.com, dobrolet-plus.com, as well as Russian regional versions ending with .ru and .рф.
The new company will replace Dobrolet, which ceased operations in August under pressure of the sanctions imposed by the European Union over its flights to Crimea.
Aeroflot announced it will start a new low cost carrier in late August. The company CEO Vitaly Savelyev said the first flights could start at the beginning of the winter season from October 27.
Dobrolet's CEO Andrey Kalmykov said negotiations with leasing companies from China and Singapore are underway.
Among the possible destinations for the new budget carrier are St. Petersburg, Samara, Volgograd, Sochi, Ufa, Tyumen and Surgut.
Analysts say the new airline is unlikely to offer flights to Crimea to avoid being subjected to EU sanctions.
"The partial change of the company's title is purely formal," Mikhail Dymshits, chief executive of consultants Dymshits and Partners told Izvestia.
"Moreover it is possible that the company wants to save on the re-registration procedure," the expert said, stressing that it does not have to change International Air Transport Association (IATA) codes – which is a long and costly process.
Dobrolet was a wholly-owned subsidiary of Aeroflot. It flew its first commercial flight in June to Crimea and had a fleet of two Boeing 737-800 NG aircraft, and a single Sukhoi SuperJet-100.
The company planned to increase the fleet to eight aircraft, extending the number of destinations to include European cities, when Western sanctions struck.