New Russian budget airline Dobrolet charges $60 for Crimea flights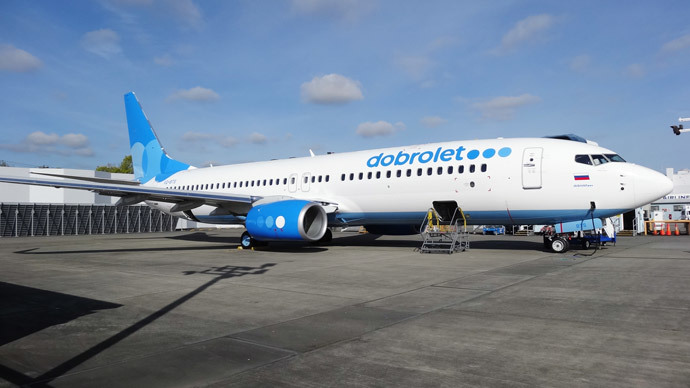 Aeroflot's new budget airline subsidiary Dobrolet is to start flights to Crimea. The airline started offering seats from Moscow to Simferopol at $60 return.
Tickets went on sale on May 26, and within 24 hours 4,000 had been snapped up. The head of Aeroflot Vitaly Savelyev said Dobrolet will fly four times daily between the two cities.
The first flight is scheduled on June 11. The new airline plans to offer seats at least 15-20 percent lower than an average economy class fare with Aeroflot. Like many budget airlines extra services will come at a price, making the maximum fare $135, for the three hour flight.
Dobrolet was granted its operating certificate on May 19, and has available two Boeing 737 NG jets, each able to carry 189 passengers, and a single Russian built Sukhoi SSJ-100 Superjet. By the end of the year the company plans to be operating eight Boeing aircraft. Dobrolet is a wholly owned subsidiary of Aeroflot, which intends to invest $100 million in the venture in the next two years.
According to Russian Prime Minister Dmitry Medvedev, by June 1 Crimea will have direct flights to 30 cities in Russia. Last year it was possible to reach the peninsula from just seven Russian cities. The number of flights will be increased to 330 which is triple the number in 2013.
In the beginning the low cost airline will only fly to Crimea. In March Medvedev asked Aeroflot to involve a cheap carrier in the peninsula transportation program. In the future Dobrolet intends to expand its network of flights to Krasnodar, St. Petersburg, Sochi and Kaliningrad by the end of the year.
Low cost airlines became a possibility in Russia after the State Duma allowed airlines to sell no-refundable tickets, to employ foreign pilots, and to charge for additional items such as food, and baggage handling.
You can share this story on social media: