​'London-centricity is unsustainable': 200 business leaders back Scottish independence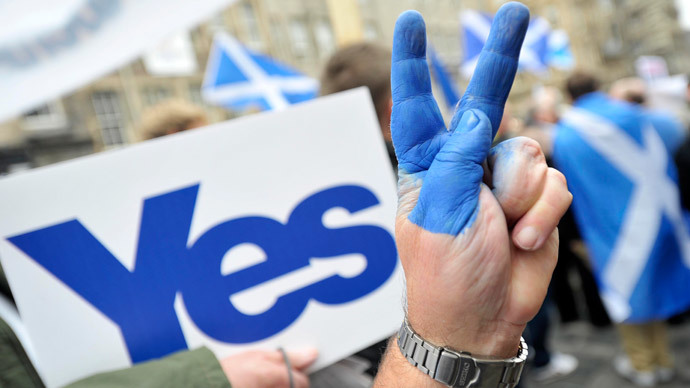 More than 200 business people have lent their support to the "Yes Scotland" campaign in an open letter published in The Herald Scotland newspaper, just one day after 130 slammed the idea of secession from the UK.
The heads of 200 companies representing about 10 percent of Scotland's workforce have backed Scottish independence over staying with the UK. Similar to the pro-unity bloc's letter on Wednesday, all the bosses signed on an individual basis, not as representatives of their companies.
"We are involved in business and entrepreneurship at different levels in Scotland and around the world. We believe independence is in the best interests of Scotland's economy and its people," the letter reads.
Wealth and entrepreneurship will blossom in Scotland once power and resources are centralized in Edinburgh and not London, the pro-independence business leaders wrote, hoping to tip the balance of economic power.
"It will encourage a culture in which innovation, endeavor and enterprise are nurtured. It will place power in the hands of Scotland's people to channel the huge resources of our country in the interests of those who live and work here," the letter states.
"The London-centricity of Britain's economy is unsustainable," wrote Professor Nathu Puri, founder of Purico, a UK-based industrial manufacturing company with strong ties to India.

"We must re-industrialize the nations and regions outside of the South East of England," Puri said.
In total, the 'Yes' campaign says that over 2,500 businesspeople have joined the pro-independence Business for Scotland organization, with membership coming from large corporations to smaller, family-owned businesses.
Tony Banks, the chairman of the group, calls the demographic the "lifeblood" of Scotland's economy.
"More and more business people are moving to 'Yes' after looking at the facts and figures. Our members know Scotland's balance sheet is relatively stronger than the UK's but we have the potential to be stronger. We know Scotland will thrive as an independent country, because key economic decisions will be made by those who truly understand and care most about our Scotland's distinctive economic needs, that's the people who live and work here," Banks said.
UK Prime Minister David Cameron expected to give a speech later on Thursday which will focus on the connectedness of the Scottish economy to England, Wales, and Northern Ireland. Cameron will say that in some industries, Scottish companies source 90 percent of their customers from the UK. According to Cameron, trade between the UK and Scotland supports 1 million Scottish jobs, or about 20 percent of the population.
Leading signatories are Sir Brian Souter, chairman of Stagecoach, an Australian-based transport giant, Jim McColl, chairman and CEO of Clyde Blowers, a £1 billion engineering group, and Ralph Topping, former CEO of gambling site William Hill.
On Wednesday, about 130 pro-UK business leaders signed an open letter stating their case to keep Scotland a part of the Union, and not seek independence.
The letter argued that Scotland's business success is directly correlated to its integration with the UK economy, which is more than 10 times bigger than the Scottish economy of $250 billion.
The letter argued that Scotland's recent success, record growth in investment and high employment are both connected to integration with the UK, and that separation would put progress at risk.
You can share this story on social media: