​Russia may extend Visa and MasterCard deadline to Jan 1
Published time: 27 Aug, 2014 13:35
Edited time: 27 Aug, 2014 15:47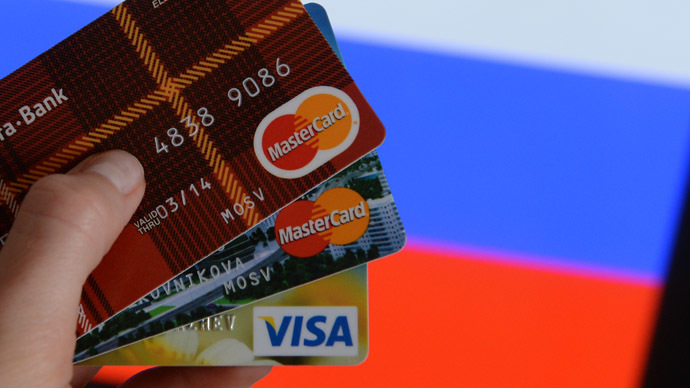 Russia's Finance Ministry is ready to extend by two months the deadline for international payment systems Visa and MasterCard to set up domestic processing for Russian card holders, according to Deputy Minister Alexei Moiseev.
"We will follow the schedule. We will analyze the situation, and if we see that they are not making it on time even though they have done everything possible – then we will consider this possibility (of extending the deadline)," Moiseev told a news conference on Wednesday.
Under the current law there is a legal possibility to extend the deadline to January 1, said the deputy minister, but that is undesirable, as the Ministry of Finance should "ensure the continuity of the transaction as soon as possible."
The payment systems lack some functionality with online trading, but "its share is around 1.5 percent of all transactions," Moiseev added.
In March, Visa and MasterCard suspended service to a number of Russian banks which fell under US sanctions.
Responding to the move President Vladimir Putin signed a law in May to establish a national payment system.
The law requires foreign payment systems to be charged 25 percent of an average profit on transfers during one calendar day in Russia, to be paid each quarter to the Central Bank.
Soon after the new law was signed, Visa and MasterCard were told to pay deposits amounting to about $3 billion in "security fees", which could be used to pay fines for the suspension of serving banks.
However the foreign payment systems can do away the compulsory deposits if they establish card processing centers in Russia before the deadline.