Aeroflot wants to revive low-cost airline by fall
Published time: 25 Aug, 2014 09:46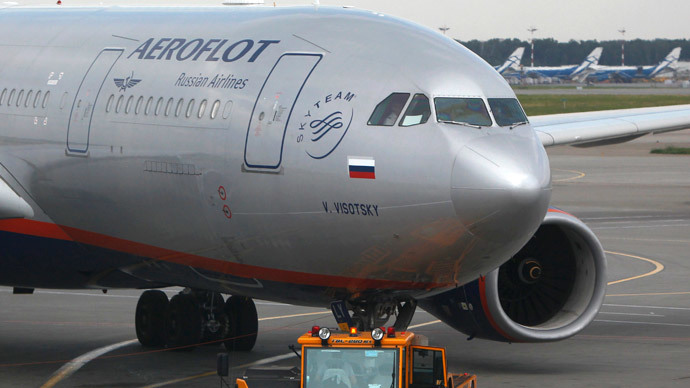 Russian flag carrier Aeroflot plans to start up a new low-cost subsidiary in the coming months to replace Dobrolet which was grounded by EU sanctions.
"I believe that we can launch flights at the start of the winter season from October 27.We will proceed from this date. We will create a new subsidiary. We are transferring airplanes, which are flying now under the OrenAir brand to this subsidiary, and will develop it as a low-cost model," Aeroflot's chief executive Vitaly Savelyev said on Sunday at the Seliger International Youth Forum.
In early August Aeroflot's low-cost carrier Dobrolet suspended flights, after the EU added the company to its sanctions list.
The new airline will operate four airplanes, two Boeing 737-800 NG acquired for Dobrolet and another two, Savelyev said, without specifying the source.
Mr. Savelyev hasn't divulged the name of the new company. "All this is new, these documents are new, some time is needed for this," he said answering the question about the need to get a new air certificate for the carrier.
Dobrolet proved to be efficient for the 6 weeks it was operational, which made Aeroflot think of re-launching the idea.
There are several options to resuming low-cost flights, Aeroflot's chief executive said.
"The first one is to wait until sanctions are lifted [the European Union plans to reconsider the sanction list on October 31]," he said, adding that "There is one more option to lobby this issue [resumption of low-cost flights] through western lawyers...But this is in line with first."
Dobrolet was a wholly-owned subsidiary of Aeroflot. It flew its first commercial flight in June to Crimea and had a fleet of two Boeing 737-800 NG aircraft, and a single Sukhoi SuperJet-100.
The company planned to increase the fleet to 8 aircraft, extending the number of destinations to include European cities, when Western sanctions struck.