Russia's food embargo making EU squeal even louder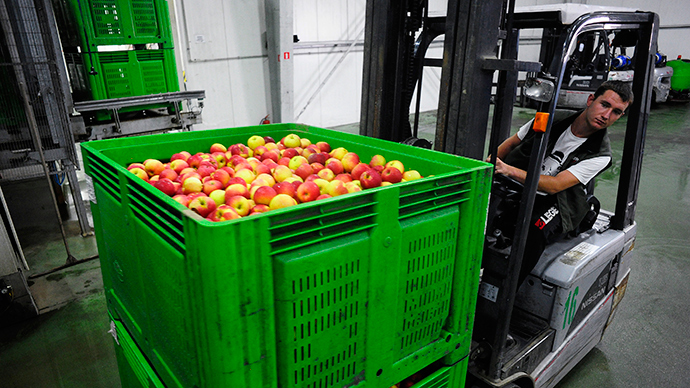 Austria is warning of catastrophic falling prices, and the Netherlands is saying losses could be triple initial estimates. A third of Lithuanian milk producers say they are facing problems.
The wholesale price of a kilogram of fruit or vegetables could halve due to excess supply, the Austrian newspaper Salzburger Nachrichten cites Rupert Gsols, a federal coordinator of the Austrian Union of Market Gardeners.
There is a bumper crop of European apples in 2014; around 12 million tons against the normal 10-11 million tons. About 370,000 tons are harvested in Poland.
The economic damage to the Netherlands from the Russian boycott could be triple the original estimate and reach €1.5 billion, Dutch News cites Hans de Boer, the chief of VNO-NCW Dutch employers' organization.
"That calculation did not take into account the Dutch dealers who operate from Eastern Europe," de Boer said.
In Lithuania, Russian countermeasures to Western sanctions are hitting milk producers the hardest, as about a third of firms face problems in finding alternative markets, RIA cites Jurate Dovydeniene, the head of the Lithuanian Association of Agricultural Cooperatives.
Pieno Zvaigzdes, one of Lithuania's five largest milk processing plants, suspended buying milk from farmers in the middle of month.
Even those who didn't supply the products to Russia will suffer, Andriejus Stancikas the head of the Agricultural Chamber of Lithuania said.
"The situation became too dangerous especially for the agricultural sector, as the blockade is imposed not only on Lithuania, but to all the European Union. It would be difficult to reorient the deliveries to the West, these markets will be filled with their own production," Stanchikas explained
Even though Russia was a risky market, it was one of the most lucrative and consumers highly appreciated Lithuanian products, he added.
You can share this story on social media: