Russian economy grows 0.8%, avoids technical recession
Published time: 11 Aug, 2014 19:23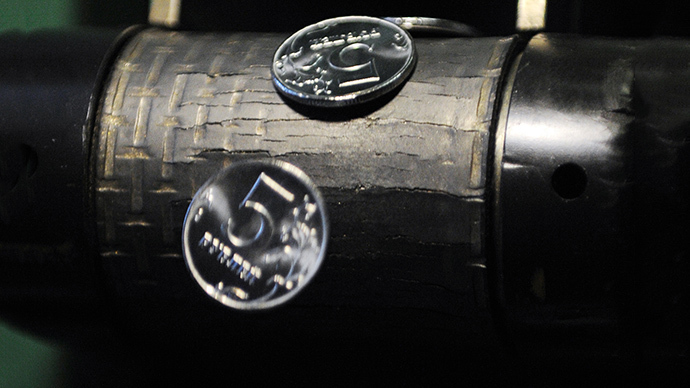 Russia's gross domestic product (GDP) increased by 0.8 percent between April and June, compared to the same period last year, according to a preliminary estimate by Russian statistics bureau Rosstat.
The announcement was made by Rosstat on Monday, and is only a preliminary reading. A final, revised calculation will follow.
The growth is enough to escape falling into a technical recession (two consecutive quarters of contracted growth) but still disappoints the Ministry of Economic Development's baseline estimate that the Russian economy would grow by 1.1 percent in the second quarter.
In the first quarter of 2014, between January and March, Russia's seasonally adjusted GDP fell by 0.5 percent.
Economy Minister Aleksey Ulyukaev says an optimistic GDP all of 2014 in total will be 1.1 percent, but previously stated that he wouldn't be surprised if growth was negative. Russia's Central Bank estimates that growth will be 0.5 percent. Growth for 2015 is slated at a 2 percent increase, according to Ulyukaev.
Russia's largest state-owned banks are now locked out from buying new debt on EU and US capital markets (except under 90 days) after the latest sanctions that target Russia's key sectors- finance, energy, and weaponry.
Sberbank, Russia's largest bank, estimates that sanctions will reduce the country's GDP by 1 percent in 2014.
READ MORE: Moody's cuts Russia's rating outlook to 'negative'
Capital outflow remains a major concern for Russia, as the ruble continues to weaken. Since 2014, the ruble has lost more than 9 percent against the dollar.
Russsia's Central Bank is so far dealing with inflation by raising its key interest rate. The International Monetary Fund predicts consumer prices in Russia will rise between six and 14 percent in 2014.