Egypt to splash out $4 billion on new Suez project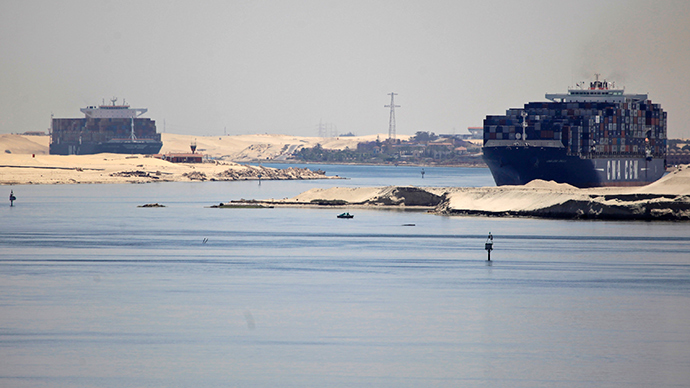 Egypt is planning to build a new Suez Canal alongside the existing waterway, as part of a multi-billion dollar project to invest in port and shipping infrastructure. This will be a vital source of hard currency to the Arab country.
The new canal will be part of a bigger project to expand Suez port and shipping facilities into a major global trade hub.
"This giant project will be the creation of a new Suez Canal parallel to the current channel of a total length of 72 kilometers," Mohab Mamish, chairman of the Suez Canal authority, told a conference on the project in Ismailia, one of the port's on the waterway.
Mamish said that the project would consist of 35 kilometers of "dry digging," in other words a totally new canal, and a further 37 kilometers of "expansion and deepening" of the existing waterway, so that two large ships can pass each other.
Plans have existed for years to develop the 76,000 square kilometers of land along the canal to generate more income and expand the waterway to take bigger ships.
The cost of digging out the new channel has been put at a conservative $4 billion and will be finished in an ambitious five-year plan, although Egypt is hoping to finish it in an even more optimistic three years.
Egypt is in desperate need of investment. After Morsi was forced out of power last year, Saudi Arabia, Kuwait and the United Arab Emirates gave $12 billion in cash and petroleum products to prop up the Egyptian economy, but it still remains in a perilous state.
Egyptian President Adel Fattah al-Sisi, a former army general, said that the army would have control of the project, but that 14 consortia had been asked to bid for it in January. Among the bidders were a number of state-run Arab contractors as well the US based global management consulting firm, Mckinsey & Co, and the architects James Cubitt and partners.The Lebanese engineering firm Dar al-Handasah will also be involved in the project.
The army's key involvement is not much of a surprise, following their role in the toppling of former Islamist president Mohamed Morsi and a huge crackdown on his Muslim Brotherhood supporters.
There has also been a surge in violence over the last year from Islamist militants on the Sinai Peninsula, not far from the Suez Canal, where the Egyptian military have been involved in a campaign which has seen hundreds killed on both sides.
"Sinai to a large degree has a sensitive status. The army is responsible to Egypt for this," said Sisi.
Sisi has said he will support major projects, like Suez, to help revive Egypt's troubled economy, which have led some people to say he is following in the footsteps of Gamal Abdel Nasser, who led a coup against the monarchy in 1952 and then set up a military autocracy.
Nasser presided over several large scale projects during his 14 years as president, including the huge Aswan dam across the Nile.
In 1956, Nasser nationalized the Suez Canal, which led to an international crisis and a failed military attempt by Britain, Israel and France to take it back.
You can share this story on social media: