Egypt govt to tackle sexual harassment as inauguration assaults spark outrage (VIDEO)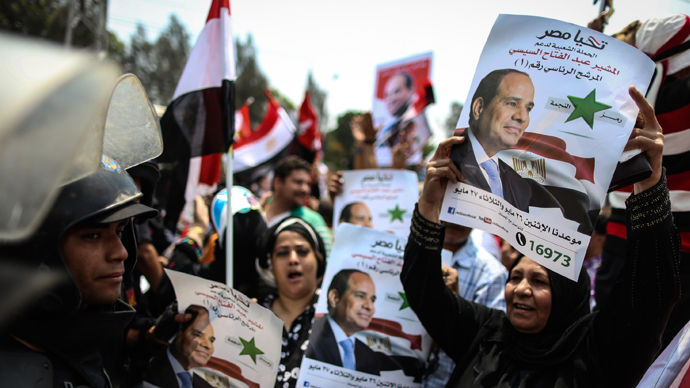 Newly elected Egyptian President Abdel Fattah al-Sisi has ordered his government to battle sexual harassment following a string of sexual assaults during inauguration celebrations on Sunday.
Seven men between the ages of 15 and 49 were arrested on Monday for attacking women during festive celebrations following Sisi's inauguration ceremony on Sunday, according to the Interior Ministry. The arrests came after public outrage mounted over a graphic video showing an apparently sexually harassed woman leaving the scene of the celebrations.

The men were arrested under a new law issued last week, which defines and criminalizes sexual harassment for the very first time. Under the law, abusers will receive at least six months in jail or face fines starting from 3,000 Egyptian pounds (US$420).

In an attempt to battle the sexual violence which has intensified since the Arab Spring protests, Sisi "instructed the minister of interior...to vigorously enforce the law and take all necessary measures to combat sexual harassment, an unacceptable form of conduct," the presidency said in a statement on Tuesday.

"The president calls on all citizens to undertake their part to reinstate the true spirit of ethical and moral values in Egyptian society...This should come in parallel with the state's efforts to robustly enforce the law."

In the shaky video posted on YouTube on Sunday, one can see a partially nude woman with severe bruises on her back and hips being dragged away from the crowd – the remains of her clothing ripped in the process – by a policeman taking her to an ambulance.
However, this woman was not the only victim of the raging crowd of men at the iconic Tahrir Square, which has become a symbol of revolution in Egypt. Other women testified about more attacks at the scene.

"I was coming out of the square with my seven- and nine-year-old daughters when we saw a group of men rushing from a side street in our direction," one woman told a state prosecutor, as quoted by Reuters.

"I begged them to let my daughters go and take me and they did, then tore my clothes with a knife and sexually assaulted me."

Another victim said she was dragged away from the crowd, undressed, and assaulted.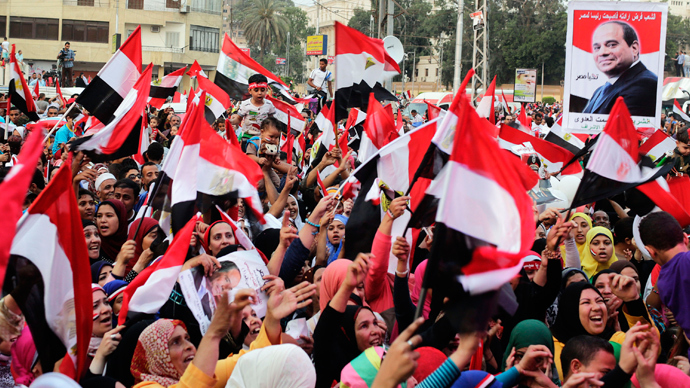 Officials speaking on condition of anonymity told AP that a 19-year-old was hospitalized. The women filed complaints following the wave of public support sparked by the shocking video.
The case is pending investigation. Two of the detained have confessed to beating a woman, while the other five denied any wrongdoing and said the women had provoked them, judicial sources said, as cited by Reuters.
Sexual harassment cases have soared since the country's 2011 revolution. Human Rights Watch said that almost 100 women were harassed during the four days of mass protests that led to the military coup and the ouster of Islamist President Mohammed Morsi in July 2013.
Foreign journalists reporting on the protests have also been sexually harassed during the revolution in Egypt. CBS News war correspondent Laura Logan said she was raped in Tahrir Square while covering the celebrations following Hosni Mubarak's resignation in 2011. Logan said the incident involved 200–300 men and lasted around 25 minutes.
Nine out of ten women in Egypt have experienced some form of sexual harassment, from minor incidents to rape, according to a UN study carried out in 2013. Women added that they were assaulted regardless of whether they were dressed in conservative Islamic clothes or Western outfits.
"Between November 2012 and June 2013, around 250 cases of sexual assault or harassment by mobs or rapes using weapons were reported during protests in Cairo," Fathi Farid of the 'I Saw Harassment' activist group told AFP.
Read more: 'Misleading and deceptive': Egypt's Islamists slam UN women's rights resolution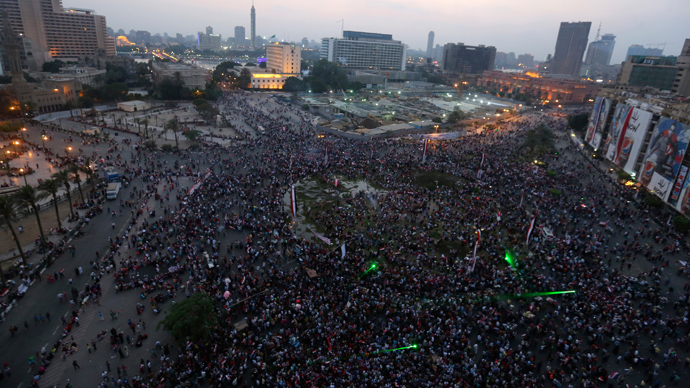 You can share this story on social media: