​Luxury carmakers cut prices after Chinese regulatory pressure
Published time: 28 Jul, 2014 12:14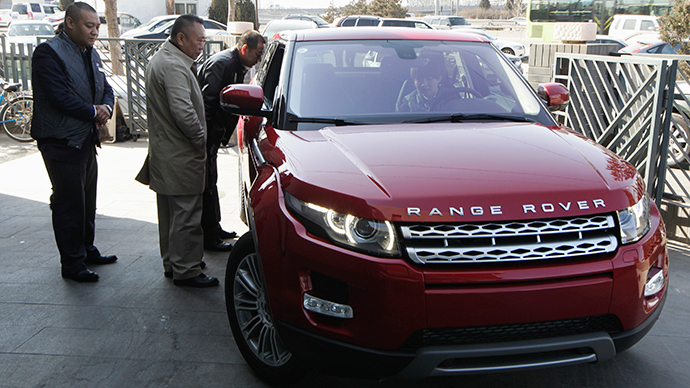 Jaguar Land Rover, Audi and Daimler have agreed to cut prices on their luxury models and auto parts after China's anti-monopoly regulator began investigating the auto industry for possible anti-competitive behavior.
British luxury carmaker Jaguar Land Rover, owned by India's Tata Motors, said it planned to cut prices on its cars by an average of $32,300 or about 19 per cent starting August 1. The models involved are the Ranger Rover 5.0 V8, Ranger Rover Sports 5.0 V8 and the Jaguar F-Type Cabriolet.
"Due to the importance of the Chinese market, Jaguar Land Rover China immediately set up a process to review our pricing and decided to voluntarily reduce the price of three models," Reuters cites the carmaker.
The move comes after the National Development and Reform Commission (NDRC), China's state planner, said it was checking for possible anti-competitive behavior by foreign automakers.
China's auto sector is the fastest growing in the world and is dominated by foreign players mostly at the expense of the country's few domestic brands, says the Financial Times.
Last week foreign car makers including Mercedes-Benz and Audi were being probed by NDRC for possibly overcharging customers in China. Then both said they plan to cut prices for spare parts and service.
NDRC has already probed companies in sectors ranging from milk powder to eye glasses over pricing. In 2013 baby milk manufacturers including Nestle lowered prices in China by up to a fifth in order to address regulators' concerns about affordability in the rapidly growing $14.5 billion market.
The regulator is also expected to sanction Qualcomm, the US tech giant which supplies 4G chips used in the majority of high-end smartphones. Analysts believe NDRC may attempt to put pressure on the manufacturer ahead of the rollout of the 4G network standard across the country.