Safety first: Toyota to pay record $1.2bn fine
Published time: 20 Mar, 2014 14:52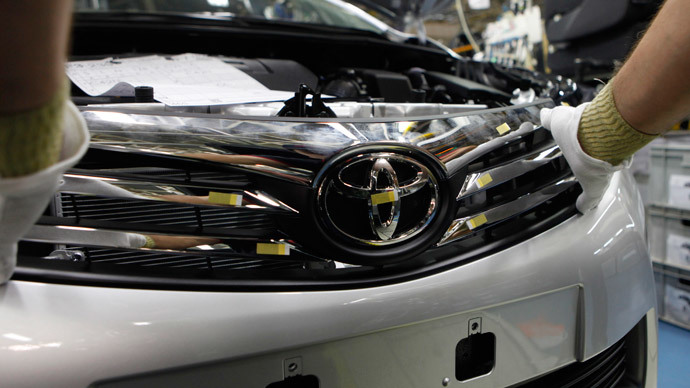 The US Justice Department has imposed a $1.2 billion fine on Toyota for misinforming customers about safety issues. The deal put an end to a four-year criminal investigation, which is the largest to date against the auto maker.
Toyota reached an agreement with the US Attorney's Office to resolve the investigation which began in February 2010. It relates to the company's 2009-2010 recalls to address potential "sticking" accelerator pedals and floor mat entrapment in Lexus and Toyota models, says the manufacturer's statement.
Toyota recalled some cars after US authorities started an investigation blaming at least five deaths on the defect.
"At the time of these recalls, we took full responsibility for any concerns our actions may have caused customers, and we rededicated ourselves to earning their trust," said Christopher P. Reynolds, Chief Legal Officer for Toyota Motor North America."In the more than four years since these recalls, we have gone back to basics at Toyota to put our customers first."
"Toyota addressed the sticky pedal and floor mat entrapment issues with effective and durable solutions, and we stand behind the safety and quality of our vehicles," he added.
However government officials consider the number of recalled cars should be bigger. According to them, the manufacturer was worried about spoiling its reputation and concealed the real scale of the flaws.
Apart from the fine Toyota will be obliged to warn the public about all the revealed defects. The agreement also provides for an independent monitor to review policies and procedures relating to Toyota's safety communications process.
The measures come after the giant US vehicle manufacturer General Motors recalled 1.5 million cars in connection with airbag wiring harnesses, brake parts and other components across several models. Last month GM recalled more than 1.6 million cars due to faulty ignition switches, 13 years after first noticing the issue, which has been linked to a dozen deaths. The manufacturer estimates a loss of $300 million in Q1 2014.