​Five involved in food scandal detained in China, including boss of 'rotten meat' supplier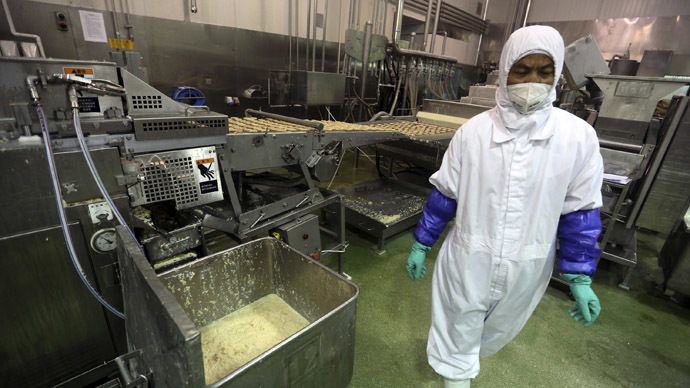 Chinese police said on Wednesday they have detained five people connected with a Shanghai-based food supplier alleged by the authorities to have sold expired and rotten meat to major fast food chains including KFC and McDonalds.
Shanghai Husi Food is a unit of US-owned OSI Group, and among those held is the head of the company and a quality supervisor, Reuters says referring to a police statement.
The food and drug watchdog in Shanghai said company policies were to blame for the food safety violations, not individuals, the Chinese news agency Xinhua reports.
"We discovered that some of the company's illegal behavior was not the behavior of individuals, but rather an organized arrangement by the company," Xinhua quotes Gu Zhenhua, deputy head of the Shanghai Municipal Food and Drug Administration.
More than 1,000 tons of meat products from OSI in China as well as 100 tons of meat delivered to a range of customers have been seized by the Shanghai food watchdog.
The regulations at another OSI food processing plants in the northern Chinese province of Hebei were very strict, a factory employee told Reuters. All workers needed to wear special clothes, and that spot checks were often held unannounced.
"The inspections are done by everyone: our own company, the government and also clients like McDonald's. Our rules are very strict and food safety standards are very high," Reuters quotes the local worker named Wei. He also said the Hebei factory is still open for business following government inspections.
Husi Food was closed on Sunday by the China Food and Drug Administration after a TV program showed workers using expired meat and picking up meat dropped on the floor to use as part of its products.
Starbucks, Burger King, McDonald's, Yum Brands, the parent company of KFC and Pizza Hut in China are among those affected by Husi supplies. Some of the chains temporarily suspended products which contained meat by Husi while searching for a new supplier.
In China, McDonalds and Yum Brands were first to be affected. Yum's KFC is China's biggest restaurant chain, with more than 4,000 outlets and plans to open 700 more this year. Both McDonalds and Yum have 7.6 percent of Chinese food market.
You can share this story on social media: