​Burger King, Starbucks, Japanese branches of McDonalds joins China 'rotten food' scandal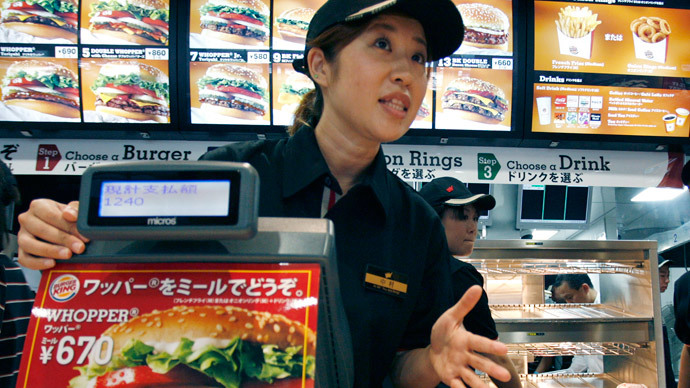 China's fast food scandal has spread to Burger King, Starbucks and the Japanese branches of McDonalds as the chains admit using rotten meat from a supplier in Shanghai.
On Tuesday, Starbucks said some of its cafes previously sold products containing chicken originally sourced from Shanghai supplier Husi Food Co Ltd, Reuters reports. Starbucks says it removed from shelves sandwiches made with chicken that originated at Husi.
McDonald's apologized on Monday to Chinese customers for apparently using rotten chicken and beef from Husi in its products, and has admitted that Japan branches have also sourced meat from the Shanghai company since 2002. The fast-food chain said it stopped selling chicken McNuggets supplied by Husi at more than 1,300 outlets across Japan.
Burger King and Pizza chain Papa John's have also stopped using the Husi meat products.
Husi's food processing plant in Shanghai was closed on Sunday by the China Food and Drug Administration after a TV expose showed workers using expired meat and picking up meat dropped on the floor to use as part of its products.
In China, McDonalds and Yum Brands which owns KFC and Pizza Hut were first to be affected. Yum's KFC is China's biggest restaurant chain, with more than 4,000 outlets and plans to open 700 more this year. Both McDonalds and Yum have 7.6 percent of Chinese food market.
In a statement, Husi said it would cooperate with the investigation and promised to share the results with the public, AP reports.
"Our company management believes this to be an isolated event, but takes full responsibility for the situation and will take appropriate action swiftly and comprehensively," Husi said.