​Ukraine prepares for complete halt to trade with Russia
Published time: 18 Jul, 2014 15:58
Edited time: 19 Jul, 2014 00:19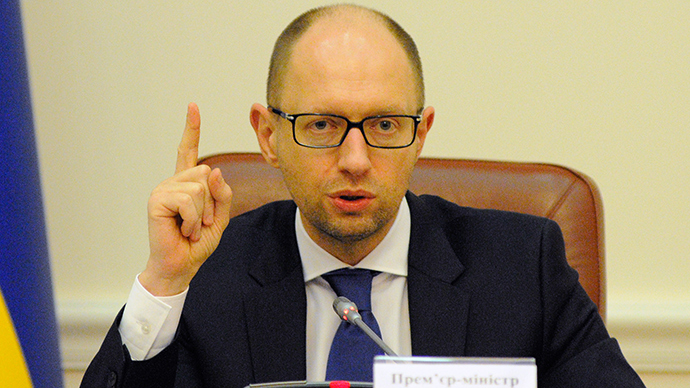 Ukraine should be ready for a complete break in trade relations with Russia, as it's impossible to just stand by when Western countries impose sanctions against Russia, Ukrainian Prime Minister Arseniy Yatsenyuk said on Friday
The Prime Minister stressed that in times when markets close and losses occur, it's especially important to understand the dignity and the rules of international law.
"I understand all of the economic consequences as do you, but I also understand that Russia is not the only market in the world where Ukrainian products can be sold, so the government is ready to do everything in order to diversify the markets in the short-term," as RIA Novosti cites Yatsenyuk's speech during a meeting on market diversification.
In 2013 Ukraine accounted for between 4.5 and 6 percent of all Russian exports, according to the Russian Committee of Civil Initiatives (CCI). Meanwhile 24 percent of Ukrainian exports head to Russia.
If a complete halt to trade is imposed, Russia expects to only loose 1.1 percent of its export market, worth $5.8 billion, as most goods will be sold in other markets. Meanwhile the impact on Ukrainian exports is estimated at up to $15 billion, the CCI calculated.
Ukrainian estimates suggest the country will lose around $5 billion in export sales if the Russian market is completely closed, Yatsenyuk said.
On Wednesday the Obama administration widened the list of sanctions targeting individuals, financial institutions and defense companies which the US believes are involved in destabilizing the situation in Ukraine.