Hellfire in Iraq opportunity for Kurdish oil players
Iraq's crumbling authority could be a golden opportunity for smaller oil companies that operate in the Kurdish north. Britain's Genel Energy, a key operator in the region, stands to gain as other companies are driven out.
Turmoil in Iraq is bad for oil giants Exxon and BP, who have significant projects in Iraq's south where Sunni jihadists are gaining ground and are nearing Baghdad.
With the country on the brink of all-out civil war, BP and Shell pulled their employees out earlier this month.
The chaos should benefit the Kurdish oil industry and its regional partners. North of Kirkuk, Iraqi Kurdistan provides an oasis of tranquillity, and small companies like Genel are reaping the benefits. Genel Energy is a partner of the Kurdish Regional Government.
Genel Energy is run by former BP boss Tony Hayward, and the company recently began pumping oil along its new KRI pipeline which runs from Iraqi Kurdistan to Turkey, where it is sold on world markets.
The UK-based company produces as well as transports oil from the Kurdistan Region of Iraq, whether Baghdad likes it or not.
"The Iraqi government is accusing the Kurds of stealing Iraq's national oil. And British companies operating there, one way or another, could be helping that cause," Mamdouh Salameh, an oil economist and World Bank consultant, told RT.
Baghdad is trying to prevent Genel from exporting to Turkey, and has even opened an arbitration case to prevent the first batch of oil being sold.
The Kurds see value in the partnership with Genel because it helps fund their mission to break free from Iraq.
Oil assets in the region include Taq Taq, Tawke, Miran and Bina Bawi fields and the KRI pipeline. The company produces 80,000 barrels of oil per day, and by 2014 expects to pump 145,000 barrels.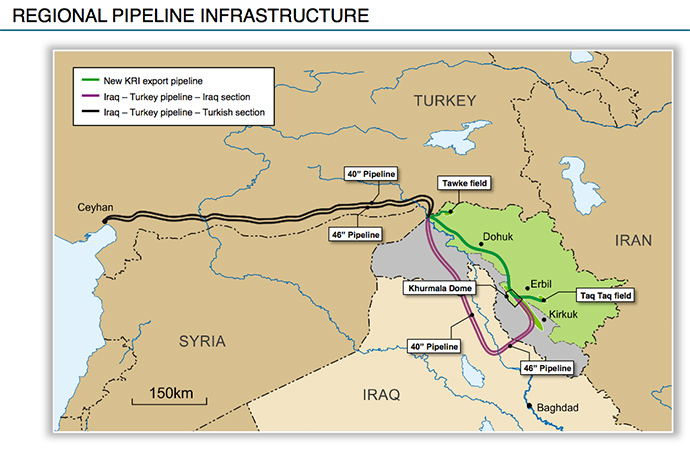 Kurdistan produces 200,000 barrels per day compared to 3 million barrels in southern Iraq, according to Bloomberg data
"They are too small to be considered for major oil fields in Iraq. They will never, and I repeat never, be permitted to operate in Iraq" Salameh told RT.
Genel Energy was formed out of a merger between Turkish Genel Enerji and Vallares, Hayward's investment arm.
Proven reserves include 453 million barrels of oil equivalent and 1.1 billion barrels of oil equivalent in contingent reserves, both are 2013 estimates made by the company.
The company, though small, has about $600 million cash on hand. In May it raised $500 million in an uninsured bond sale.
Hayward departed BP in 2010 following the PR disaster the company faced after the Gulf of Mexico oil spill. Hayward could soon leave Genel to lead the trading and mining company Glencore, as he was appointed Chairman in May.
You can share this story on social media: