Russia brings WTO complaint over 'illegal' US sanctions - Medvedev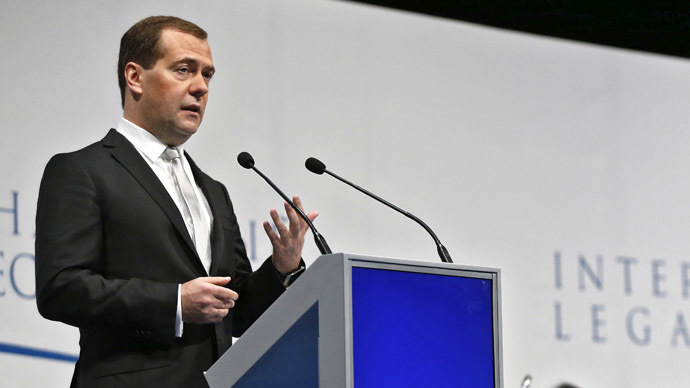 Moscow intends to present a complaint to the World Trade Organization (WTO) claiming 'politically motivated' US sanctions that target local companies are hurting Russian external trade and violate WTO rules, Prime Minister Dmitry Medvedev said on Friday.
"Unilateral politically motivated sanctions are illegal from the point of view of classic international legislation, they do not meet public order requirements as they ignore WTO's statute mechanism of constraint," the Prime Minister told an audience at the St. Petersburg International Legal Forum.
In their latest round of sanctions, the US has tried to target Russia's economy by forbidding business with certain organisations, as well as asset freezes on individuals believed to be close to Russian President Vladimir Putin.
Medvedev: Unilateral politically motivated sanctions are illegitimate in terms of classical international law #SPBILF

— Government of Russia (@GovernmentRF) June 20, 2014
"Such sanctions violate WTO rules, including the most favored nation status, as they show discrimination to service providers and suppliers from another country and violate restrictions of the second article of the WTO's General Agreement on Trade in Services," Medvedev said.
Europe, though hesitantly, has followed the US sanction march and produced its own Russian business blacklist.
Bilateral net trade between the two former Cold War enemies is relatively small - at $38 billion in 2013, but Russia is more worried about continuing good trade relations with Europe, which amounted to $330 billion last year.
Medvedev said the US sanctions will affect Russia's external trade, adding he understood that challenging the sanctions at the WTO "will be difficult because the US has both doctrinal and practical authority in the organization."
Russia, the world's sixth largest economy, became the 156th member of the WTO in August 2012, the last of the G20 nations to join.
The 159 member WTO group account for 97 percent of global trade.
You can share this story on social media: